Lessons in sustenance
Through civic-minded programs, Lafayette addresses food insecurity in Easton.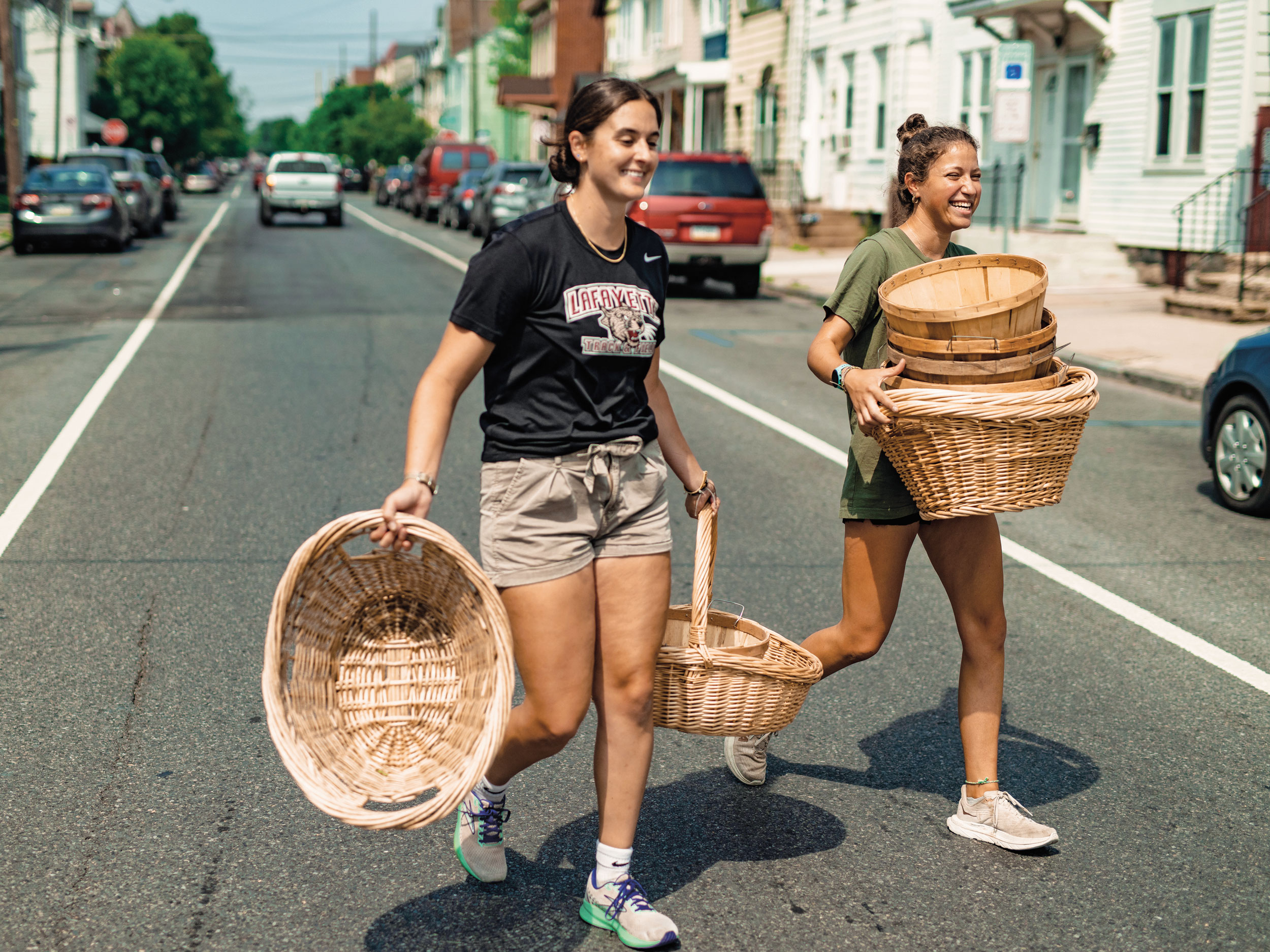 Above the distant din of Interstate 78, two Lafayette students and their adviser are quietly strolling through morning dew at Easton Urban Farm, plucking weeds, inspecting rows of plants, and harvesting herbs and fresh roots, leafy greens, and other seasonal vegetables to help address food insecurity in the city.
Collecting a colorful bounty of dusky eggplant, cucumbers, collard greens, bok choy, string beans, yellow squash, kale, and Peruvian purple potatoes, EXCEL Scholars and track and field teammates Rylee Bordwick '25 and Harvest Gil '25, along with Lawrence Malinconico, associate professor of geology and geophysics, are preparing to take their haul to Easton Area Community Center in the West Ward. It's one of the Easton neighborhoods facing food insecurity.
Their work is a subset of an impressive roster of faculty, students, farmers, and community members who, for more than a decade, have been dedicated to developing ways to address food issues in Easton. "This summer project is really about connecting with the community and trying to make a difference to address real problems that are happening here, like food insecurity," says Bordwick (anthropology and sociology and environmental studies, minor in geology).
"Food deserts and food insecurity affect a lot of areas, and Easton is no different. So being able to work here on the farm and then figure out different strategies and ways to get produce to those who need it most is a super rewarding experience for us," she says. "But also, we can see the effects that we're making."
Addressing food insecurity in Easton is personal for Gil (environmental geology, anthropology minor). "One thing that has stuck with me through the course of this summer research is how my community works and how it develops," she says. "I went to Easton Area High School, so I have a little more of a perspective on how the different sides of Easton interact with each other."
The research to bring fresh produce into the West Ward is part of Lafayette's evolving attention to local food systems. It's an outgrowth of the Tech Clinic Veggie Van project, which began in fall 2012 through a collaboration between Lafayette's Technology Clinic and the West Ward Neighborhood Partnership, in an effort to make fresh produce available within the West Ward.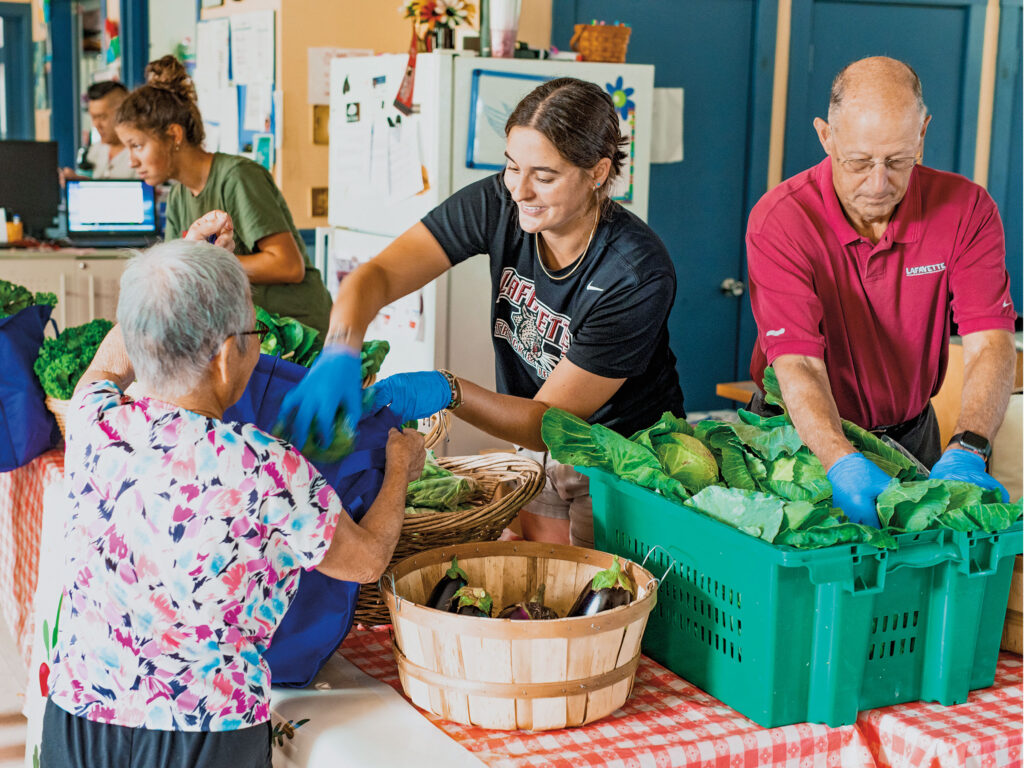 On a food distribution day in the summer, Harvest Gil, Rylee Bordwick, and Lawrence Malinconico (pictured, left to right) help local residents fill their grocery bags with varieties of lettuce and other seasonal produce.
Malinconico, who has partnered with Benjamin Cohen, chair of engineering studies and professor, on food insecurity research, says helping provide access to fresh produce to people with limited access is at the root of the summer project. "There are less fortunate people in our communities who don't have access to fresh produce," Malinconico says, explaining that produce tends to be relatively expensive on a per-calorie basis. "The real goal for our project is to get produce into the hands of those people who have limited budgets."
The summer research project has reimagined previous food distribution programs supported by Lafayette and Easton Urban Farm, focusing on a customer service-oriented experience. Tables at the Easton Area Neighborhood Center are beautifully and carefully prepared. Wicker and split-oak baskets brim with freshly picked produce. "It gives everyone a little bit more of a sense of oh, this is a nice interaction," Malinconico says. "Through the process, we're learning more about the demographics of the West Ward, which is really important as we work to make sure the food is reaching those in need."
Their work, done quietly and in collaboration with community partners, including Crayola, is appreciated. "I call them my Lafayette angels," says Lisa Campbell, assistant director of Easton Area Community Center. "They have formed valuable relationships with many of the kids, families, and seniors who come here."
As student-athletes, Bordwick and Gil are used to sweat equity. "Working on a farm is manual labor. And I think just training every day has prepared us for that transition," Bordwick observes.
Cohen, who has led Lafayette's awareness about the importance of fresh food, says the growth of the College's farm and farm studies programs encourages participation in the local food scene. "The purpose wasn't about turning Lafayette into a farming school," he says. "It's about living our principles and generating attention to healthy soil and healthy eating on campus and off."
Over the years, Malinconico has observed students begin to understand how food is sourced and why accessibility matters; many graduates are even working in food systems now. "From a learning experience for the students, there's a fair amount of manual labor," says Malinconico. "But it has been beneficial for the students and the community."