by Geoff Gehman '80 | photography by Steve Babuljak
The planets are aligned as Tony Brooke '91 records his first big gig. The moon is full. The date is Oct. 30, 1993, the night before Halloween. Joan Baez is headlining a benefi t for shut-ins for her charity, Bread & Roses. Brooke is taping the folk activist on a new 16-track system, a top-of the-line machine that got him his first big gig.
A heady experience for Brooke, who just 10 months previously had started Silent Way, a concert recording company. Even headier is the location — a haunting, haunted hall. Baez is performing in the cafeteria of the former federal prison on Alcatraz Island in San Francisco Bay, now a tourist attraction. Brooke is based in the kitchen where meals were prepared for the likes of Al Capone and George "Machine Gun" Kelly. Microphone cables snake through wall slots used for serving food safely to unsafe inmates.
The Baez-at-Alcatraz show put Brooke on the map as a prominent audio engineer for prestigious acts in the Bay Area. Since then the San Francisco resident has recorded a live radio concert by the rock band Coldplay, a Grammy-nominated live CD by the edgy troubadour Richard Thompson, and a club comeback by Dave Chappelle, the outrageous comedian. He's survived nearly 20 years in a fickle field by being a technological whiz with cool gear and a cool head.
At the same time, he's served as a hip lifestyle guide for Lafayette alumni on the West Coast. Last June he expanded his network by producing and performing in a Reunion 2011 gathering of his Lafayette group, Weird People.
FORMING TRIBES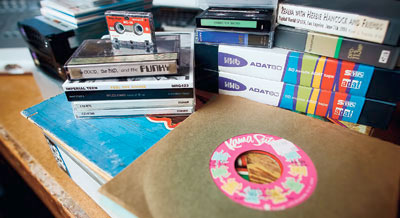 Brooke was a teen in Chestnut Hill, Pa., when he began plugging into the public power of music. In 1983 he attended his first major concert, a four-band feast starring the Police, his first favorite group. Two years later he attended Live Aid, the African famine-relief extravaganza that featured a Led Zeppelin reunion and an opening blessing by Joan Baez. He discovered his destiny while serving as program director of his high-school radio station. The job made him want to share music that mattered, to spread the vibe of a tribe.
Brooke expanded his mission at Lafayette. He disc jockeyed at WJRH, co-founded The Vid, an alternative journal, and began singing in Antwerp's Placebo, an alternative band named for a Grateful Dead instrumental. The group morphed into Weird People, which played tight, loose versions of tunes by the Dead and their own. The seven musicians were popular, winning the College's 1990 Battle of the Bands. They were conscientious, promoting Amnesty International and Earth Day.
Brooke doubled as lead vocalist and sound specialist. Steve Gotlieb '91, a founding guitarist of Weird People and a software engineer in the Bay Area, recalls that Brooke wrote lyrics on paper bags, made lists of everything and recorded anything, and was creative and crazy enough to start a seated to-standing "wave" to a very slow rendition of the Dead's "Friend of the Devil."
Jon Fast '92 became a Brooke fan in a history of philosophy class, impressed by Brooke's knowledge of a wide range of musicians. He became a bigger fan during Weird People shows and became the band's emcee, a clown named Squonky with a theme song, "Pack-a-My-Ba-Squonk." Fast is now a partner in noonaCO, a Bay Area shipping service for small businesses.
Brooke's showmanship made Chris Linnevers '93 glad that he transferred as a sophomore from Occidental College in Los Angeles. "One of my first memories of Lafayette was a Weird People gig in a frat," says Linnevers. "I remember this tall, skinny guy—Tony—singing his heart out and this bunch of young, hippie-like kids playing great grooves. They got me excited about playing in a band again, about reconnecting through music." Linnevers was so excited, he formed Zog and the Mighty Blue Mind Benders.

After graduating with a psychology degree, Brooke took classes in journalism and mass communication at University of California-Berkeley, hoping to improve his chances of working for an FM radio station. Unable to break into that field, he began studying audio engineering.
After earning 26 credits at two schools, Brooke launched Silent Way, named after an album by trumpeter Miles Davis. His early clients were public and progressive: a jazz festival; a radio station that produced concerts starring the likes of Duran Duran and Ornette Coleman. He became his own client, testing his skills on new equipment in apartments turned into studios.
Brooke was a hip social engineer for alumni in the Bay Area. He recommended bars that served cheap food during happy hour and radio stations that were colorful and communal. "We checked in with Tony to see what was going on," says Linnevers, global product manager for BIO-RAD Laboratories, a Bay Area maker and supplier of life-science instruments.
Along the way Brooke developed the coolness needed to handle the pressure cooker of recording concerts. He carried extra equipment to prepare for meltdowns minor and major: bad house splitters and broken instruments, power outages and fi res. "On a live record there can be so many fires to put out, and you have to put them out or you don't get the recording," says Brooke.
Brooke's level-headedness is one of his many assets, says audio engineer Marcus Buick, who assisted Brooke with Baez's Alcatraz show and a 2010 Doobie Brothers audience-interactive record-release concert over the Web. Buick praises his colleague's excellent equipment, exceptional knowledge of microphones, and strong alliance with producer David Denny, who played guitar with the Steve Miller Band, another Brooke client.
"Tony has lasted so long in this business because he's dependable, easygoing, and flexible," says Buick. "He's versatile enough to work with all types of acts: rockers, jazz guys, hiphoppers, comics. People appreciate that he's a sound historian and an acoustical psychologist."
In 2007, Dave Chappelle, the slyly subversive comic cultural critic, brought a longer, looser show to San Francisco and to Brooke, who had recorded a live album by D.L. Hughley, another comic rebel.
Chappelle and Brooke had a rogue relationship. Around noon an assistant or the comedian himself would call with location and time for that night's shows. Brooke would then place microphones all over the venue to capture the rich, rippling laughter needed for a successful, wish-youwere-there comedy record. That evening he would listen as Chappelle performed, sometimes for six hours, which meant that Brooke went to sleep after 4 a.m. From 2007 to 2009, Brooke recorded more than 165 hours.
In 2010 Brooke accepted a shorter, saner assignment to record a live album by Richard Thompson, based on a tour of 10 shows in five cities on the West Coast.
Brooke's investment paid dividends when Thompson's CD, Dream Attic, was nominated for a 2010 Grammy Award for contemporary folk album. It was the second Grammy nomination for a Brooke-recorded record; Ramblin' Jack Elliott's I Stand Alone earned a 2006 nod for traditional folk album. He received an added bonus when he attended the Grammy ceremony with Jason Ojalvo '92, a Weird People drummer and an audio-book producer who supervised a CD of Woody Allen short stories nominated for a spoken-word Grammy (Dream Attic lost to Steve Earle's record of Townes Van Zandt songs; The Woody Allen Collection lost to The Daily Show with Jon Stewart Presents Earth [The Audiobook]).
NEW DIRECTIONS
A shifting industry has prompted Brooke to shift his goals. He recently started a master's program in library and information science to strengthen his role as an audiovisual archivist. He envisions cataloging and sequencing songs and images for studios, corporations, and citizens.
One of Brooke's personal projects is archiving Weird People's 2011 reunion, a celebration of the 20th anniversary of the class's graduation. Rehearsals were out of the question due to geography. They emailed live performances and set lists between California, Pennsylvania, Washington, D.C., and Minnesota.
Weird People had only one practice before Reunion. The next day, under a tent on the Quad, they sounded as if they had been performing together for 20 years. They delivered crackling, surging versions of soul burners ("In the Midnight Hour)," romper-room ditties ("The Mighty Quinn"), and Dead classics ("Samson and Delilah"). Brooke growled and yowled like the Dead's Bob Weir, recorded himself singing the Dead's "Bertha" on a cell phone, pogo-sticked from stage to recording table.
Brooke expects to sing again with Gotlieb's band Moving Chairs, promote radio stations "that don't suck," and moonlight as the disc jockey DJ Appropriate (aka the Sultan of Suitability, aka the Apostle of Apt). He's available for bar mitzvahs, boat christenings, and bad monster movies under a full moon the night before Halloween in an abandoned prison of your choice.
Geoff Gehman '80 is the author of Down But Not Quite Out in Hollow-Weird (Scarecrow Press), a film biography of Eric Knight, screenwriter for Frank Capra, and The Kingdom of the Kid, a memoir of growing up in the Hamptons (SUNY Press, 2013). A Bethlehem, Pa., resident, he is former arts writer for The Morning Call and has been writing about, and for, Lafayette since 1981.