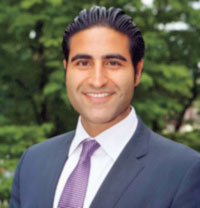 AT THE ALUMNI ASSOCIATION annual meeting held during Reunion 2012 in June, Alex Karapetian '04 was named president-elect, succeeding David Reif '68, whose term as president of the Alumni Association began July 1.
Reif, who has been a trial lawyer for the past 30 years, is currently partner at the Hartford, Conn., office of McCarter & English, LLP. His focus is on distributorship law and products liability. Karapetian is director of sales and marketing for Acopian Power Supplies, Easton, Pa.
Reif, who just completed two years as president-elect of the Alumni Association, previously served as vice president for outreach on the Alumni Council, with oversight of the undergraduate relations, young alumni, career services, and Alumni Admissions Representatives committees.
A government and law major, Karapetian was co-chair of the Young Alumni Committee from 2008 to 2011 and has been chair since 2011. He co-founded the Wine 3/9 Event, which celebrates the founding of Lafayette, and spearheaded the establishment of the 2004 Kappa Delta Rho Fraternity Scholarship in 2012.
A Marquis Society member, he is a third-generation Lafayette legacy. His great uncle, the late Sarkis Acopian '57, uncles Greg Acopian '70 and Jeff Acopian '75, and cousin Ezra Acopian '03 also attended Lafayette.
In his role at Acopian, Karapetian has driven new customer acquisition to a 40 percent increase as well as developing and implementing a webbased marketing strategy. He serves on the board of Acopian Center for the Environment and is a trustee of the Armenian Assembly of America.