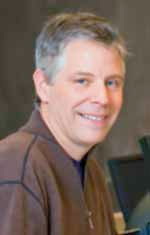 Scott R. Hummel, professor of mechanical engineering, is serving a two-year term as Interim William Jeffers Director of the Engineering Division. He was co-chair of the recent Engineering Vision efforts to more effectively promote and build upon Lafayette's unique blend of discipline-specific undergraduate-only engineering along with the arts and sciences. He will lead the division in implementing recommendations made during that process, including a divisional curriculum review consistent with the objective for "increased curricular flexibility to provide for new pedagogical initiatives" that was identified in the Engineering Division's 2010-15 Strategic Plan.
"I am pleased that Scott will serve in this important role," said Wendy L. Hill, provost and dean of the faculty. "Among the major goals of his interim directorship will be to strengthen the Engineering Division within the liberal arts context of the College and to enhance interdisciplinary connections within the Engineering Division and with other programs."
The Jeffers Director position honors the late William A. Jeffers, a professor of physics whose career as a faculty member and administrator spanned 35 years. It is being endowed by two of his former students. The College will conduct a national search for a permanent Jeffers Director beginning in fall 2013.