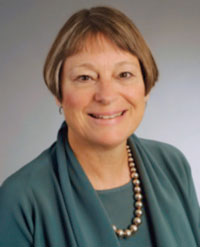 As assistant dean for student affairs in George Mason University's College of Health and Human Services, Fairfax, Va., Susan Swett '72 strives to recreate aspects of the small college experience that was so important to her at Lafayette.
"Although the small liberal arts experience cannot be replicated at a large university," she says, "I remember how important individual relationships were to me as I interact with students here. I spend an extra minute to ask students how things are going, refer them to colleagues who can help, and follow up with those who are struggling."
Aside from a four-year detour into corporate recruiting, Swett has been involved in higher education administration since graduation.
Swett's team oversees applications and conducts orientation and academic advising. She was named Outstanding Supervisor of the Year in 2006 by the university.
An English graduate, she holds a master's degree in counseling from Lehigh University.
"Lafayette was my home away from home. Many faculty members and administrators were interested in me and my development," says Swett. She credits Richard Haines '60, former director of admissions; Herm Kissiah, dean of students emeritus; and James Lusardi '55, the late professor of English, with shaping her career in academia.
Swett is married to J. Bradford Hunter '70.