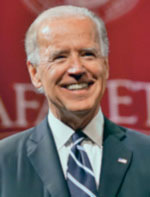 IN A ROUSING speech before a capacity crowd of 3,200 in Kirby Sports Center May 2, Vice President Joe Biden celebrated four eras of revolutionary change in technology and opportunity in the United States and spoke about grand possibilities for our nation's continued progress through American ingenuity. "It's never, never, never been a good bet," he said, "to bet against America."
The vice president's connections to the College are both contemporary and historic. His deputy chief of staff is Alan Hoffman '88, who coordinated his visit, and Jim Hall '90 is a member of the Secret Service brigade that accompanied him to College Hill.
Before the speech, Biden enjoyed learning more about his historic connections to Lafayette during a visit to Kirby Library hosted by Diane Windham Shaw, director of special collections and College archivist, and Leslie Muhlfelder '81, vice president for human resources and general counsel. He viewed records and memorabilia relating to his great-grandfather Edward Francis Blewitt, a member of Lafayette's Class of 1879, and Blewitt's sons, Biden's great-uncles Arthur Joseph Blewitt, Class of 1904, and Robert Patrick Blewitt, Class of 1905.
Biden was particularly intrigued by the range of courses his great-grandfather took, from chemistry to religion to surveying. He recalled that he was inspecting precious items owned by his late mother last year when he discovered more than 100 poems written by Edward Blewitt, a civil engineer who became a Pennsylvania state senator.

Caroline Lang '13, president of Student Government, introduced Biden in Kirby Sports Center. After his address, he was presented with a fine reproduction print of a lithograph depicting the campus in about 1875, the year Edward Blewitt entered the College. Biden's address was the second speech by a major world leader at Lafayette in 2011-12, along with the Oct. 19 talk by former Soviet leader Mikhail Gorbachev.
For extensive coverage of Vice President Biden's visit to Lafayette, including a video of his address, many photographs, and a list of Lafayette alumni who have worked for U.S. presidents and vice presidents, go to http://news.lafayette.edu/?p=29444.