Warm welcomes
President Nicole Hurd catches up with Sarah Moschenross, Lafayette's new vice president of student life, to talk Pard pride, students finding their guardrails, and the benefits of meditation.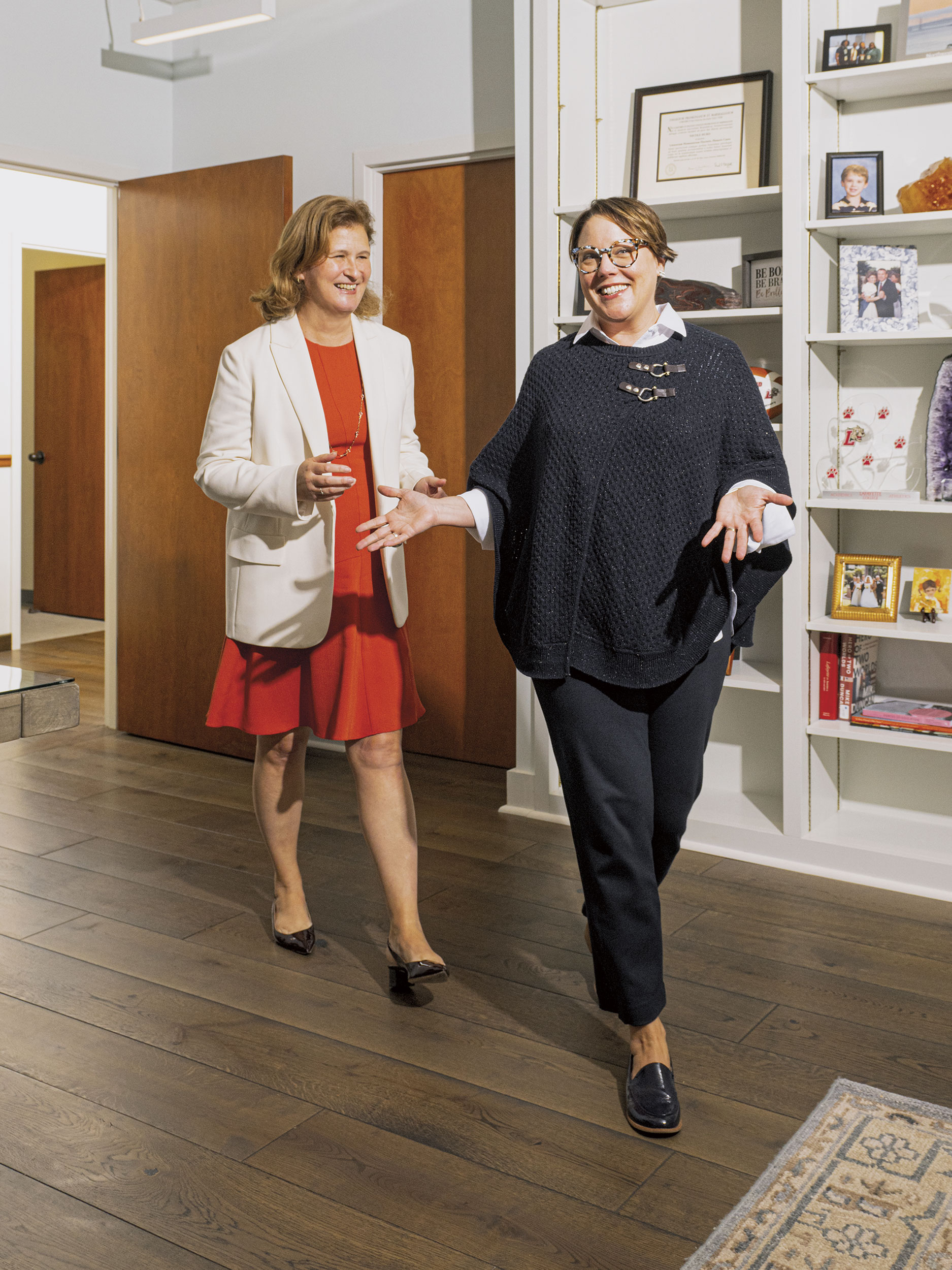 NH: What are your impressions on campus so far?
SM: There's a lot of student engagement. Lafayette students have a passion in their bellies about making the world a better place.
NH: You were just at Yom Kippur dinner with the Hillel Society, plus volleyball and football games—as you've been showing up, what has been most exciting about the Lafayette community?
SM: For one thing, it does feel like a community. There's a sense of school pride. Students cheer each other on.
NH: That's one of the reasons I wanted to come here, because I believe in that sense of community. What appealed to you about this position?
SM: I've been committed to inclusion throughout my career, and I felt like I could do that work here. We can focus on real problems that are affecting students and solve them together.
NH: How does this position shape you as an educator?
SM: Education can come in a lot of different packaging. It can be pedagogy that's delivered in the classroom. And it can be one-on-one conversations with students about how they experience the world. The 18-24 age range is a time of great disruption—exciting, but also challenging. You have to create that sense of safety and belonging in order for students to grow and flourish.
NH: Yes, we need to help students find their guardrails. This is a beautiful moment of discovery for them, and they need enough space to be creative, take risks, and find themselves.
SM: My staff will hear me say this often: This is a learning place. Students are allowed to make mistakes. And we have to show up fully human with each other so we can work through those mistakes.
NH: If the default is kindness, you can actually make real progress. On another topic, what do you want to check out now that you're in the Lehigh Valley? One of my favorites is Owowcow Creamery.
SM: The downtown is so charming. I've been to the farmers market, but I'm also excited to get to know people who are involved with local businesses and places where students can be connected.
NH: What are you reading or listening to right now?
SM: The Island of Sea Women, which takes place in Korea. And I'm listening to a podcast about meditation.
NH: I'm reading Think Like a Monk by Jay Shetty. I was drawn to it is because I'm interested in both how we care for each other and also how we care for ourselves.
SM: This became acute during the pandemic. There's a critical nature to the student well-being aspect of what we do—how to have balance in lives.
---
Get to know Sarah Moschenross
Moschenross joined Lafayette in September as the vice president of student life. Previously, she was the chief student affairs officer at Grinnell College in Iowa.
Expertise
The Division of Student Life cultivates a vibrant educational environment outside the classroom to build connection and belonging, engagement, wellness, career trajectories, and joy.
Noteworthy
Moschenross is currently working on a dissertation about the experiences of women who ascend into executive leadership in higher education.
For fun
Playing with her three kids and dog; spending time outdoors; doing puzzles.
Last word
"We have to meet students where they are and, with a growth mindset, help them to their next stage of development," Moschenross says. "And that's not a one- size-fits-all."