In 1884, when a group of conservatives allied with the Manchu rulers of Imperial China seized control of the Korean government, Philip Jaisohn (class of 1894) joined the attempt to overthrow them. The action, known as the Kapsin Coup, was stopped by Chinese military troops. Convicted of treason, Jaisohn lost his whole family and fled Korea to save his life.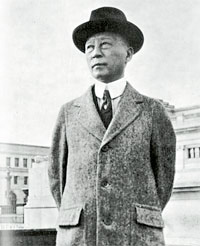 Jaisohn, known in Korea as Seo Jae-pil, was the son of an aristocratic family. But he gave up that privileged life for the principle that the people of Korea should have a democratic government independent of outside political pressure. His story is told in the book, America's Finest Gift to Korea by Channing Liem '34.
In the U.S., Jaisohn settled in Pennsylvania, where he met John Welles Hollenback, then a Lafayette trustee. He studied at Lafayette from 1890-91 and lived at the home of a professor. When the professor retired, he moved to Washington, D.C., and became a translator of Japanese and Chinese medical books. In 1890, he became the first Korean to become a naturalized U.S. citizen and in 1892 received his medical degree from George Washington University medical school.
In 1894, Japan defeated China in the first Sino-Japanese War. Many reformists
were elected to the Korean cabinet, and the treason charges against the Kapsin Coup were pardoned. Jaisohn returned to Korea in 1895, where he published an independent newspaper in the Korean alphabet, and lectured on the importance of democracy and independence. He also organized the Independence Club and the All People's Congress. In 1898, conservatives accused Jaisohn and the Club of seeking to replace the monarchy with a republic, and the government asked him to leave.
Jaisohn returned to the Philadelphia area. From 1898 to 1947, he conducted medical research,
started a printing business, and founded the League of Friends of Korea. When Japan was defeated in 1945, he returned to Korea as chief adviser on Korean affairs to the commanding general of the U.S. Armed Forces in Korea.
After elections were held and a new president installed, he returned to the U.S., where he died in 1951. The Philip Jaisohn Memorial House, Media, Pa., his home from 1925 to 1951, was acquired by the Philip Jaisohn Memorial Foundation in 1987 and opened to the public in 1990. A statue of Jaisohn was placed in front of the Embassy of South Korea in Washington, D.C., in 2008.