"The College strives to develop students' skills of critical thinking, verbal communication, and quantitative reasoning and their capacity for creative endeavor; it encourages students to examine the traditions of their own culture and those of others." —from The Mission of Lafayette College
by Edward N. Gamber | illustration by Heather Reinert
General education requirements for students attending liberal arts colleges are fundamental. Through a conscious structure set by faculty, students progress through a series of courses to acquire certain skills including oral and written communication, scientific and quantitative reasoning, critical analysis and reasoning, and technological competency.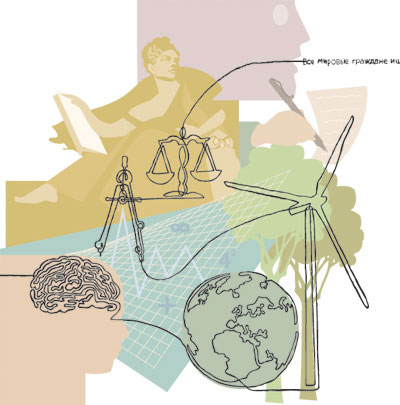 At Lafayette, that structure is the Common Course of Study. A new version of this common core was launched this fall after an intensive three-year review and analysis by faculty. The new CCS shifts the focus from exposing students to a wide variety of subjects to meeting core learning outcomes.
The seeds for this curricular advancement were planted in 2006.
During the development of a new strategic plan, the subcommittee on curriculum recommended that the Curriculum and Educational Policy Committee of the faculty study the current general education requirements and "particularly to consider models that are different from the current traditional distribution of courses."
As a result, the faculty began broad and deep deliberations that included dozens of meetings, brown-bag discussions, workshops, a retreat, and three opinion surveys. The process culminated in May 2011 with a unanimous vote to adopt the proposal for a revised Common Course of Study.
"Achieving agreement about the curriculum among a group of faculty in one academic department can be a difficult task, but getting more than 200 faculty members from across the humanities, social sciences, natural sciences, and engineering to agree about a College-wide curriculum change is exponentially harder," says Provost Wendy Hill, "and a cause for celebrating the community and collegiality that it signifies."
NEW APPROACH
The curriculum is based on a list of more than 40 learning outcomes organized in eight categories of requirements—first-year seminar, general skills, global and multicultural, humanities, natural sciences, social sciences, quantitative reasoning, and writing.
"We want students to understand the different methodological lenses through which one can view the world," says Kira Lawrence, associate professor of geology and environmental geosciences, a member of CEP through the three-year process. "When they leave Lafayette we want them to appreciate how different disciplines approach inquiry and use that knowledge to inform the decisions they make long after they have graduated." The goal is for students to experience, for example, how a social scientist gathers data and analyzes it and how a natural scientist approaches research. By structuring the core curriculum in this way, faculty intend for students to develop the agility of mind to recognize what lens is needed and if they don't have that ability themselves, to seek out colleagues and partners who do.
Another change from the previous CSS is that the new core is truly "common," that is, it is required of all students. Previously, students in the bachelor of arts programs had different requirements from those in the bachelor of science and engineering programs. "Having engineers take a broad spectrum of courses in addition to math, science, and engineering makes them better engineers," says Scott R. Hummel, interim Jeffers Director of the Engineering Division and professor of mechanical engineering. "CSS helps them better appreciate and understand the artistic, social, and humanistic aspects of engineering and the world in which they live… having a broad education ensures understanding that engineering is only part of the picture."
In addition, the new CSS signals an awareness that students will be acting in a globalized world through the requirement to learn at least the basics of a second language and through two courses in the global and multicultural category that stress how identity is influenced by historical and cultural forces.
"The Class of 2016 will be the first Lafayette class to take courses in the new Common Course of Study that are designed to deepen students' understanding of the complexities of globalization," says Hannah Stewart-Gambino, dean of the College, "themes that will be at the core of the new Oechsle Center for Global Education and the Grossman House for Global Perspectives, a new residential facility." Further, the program has more flexibility. Students can meet two or more goals through one course. For example, they can experience writing outside of their chosen discipline and fulfill a global/ multicultural expectation in one course. Because of this dynamic, students may fulfill the CSS requirements through as few as 7 or as many as the maximum, 15 courses.
A new science component was added—Science and Technology in a Social Context (STSC) courses. Offered by the science and engineering departments, these courses give students the option of taking a course without a lab that addresses a scientific or technological issue of timely importance.
The original aspirations of the Values and Science/ Technology program have been preserved in the "Values" courses, which can be found in any discipline. These courses integrate a discussion of values in the context of the subject matter. The purpose of these courses is for students to recognize and appreciate that difficult questions of moral and political concern are subject to rational deliberation and well-grounded conclusions.
The new CSS is the first revision since the College adopted a Common Course of Study in 1991, which took effect in fall 1993 with the Class of 1997. CCS replaced the goals-oriented curriculum for bachelor of arts candidates. The new curriculum emphasized common experiences for all students but still, exceptions for bachelor of science candidates remained.
SHIFTING GOALS
In years past, the goal of a core curriculum was to provide students with a firm foundation in a small set of subjects such as Western civilization, sciences, mathematics, and literature. The checklist of mandatory courses—a cafeteria or distribution-requirement approach—did not have an explicit plan for what students were expected to learn. And, over time, the number of disciplines has increased significantly while the number of courses required for graduation has decreased.
"We could no longer expect students to be exposed to every discipline and at the same time acquire deep knowledge in their chosen major," says Lawrence. Setting requirements in every discipline was not possible. The new CSS balances students' desires for pursuing their majors with the faculty's collective desire for students to be both deeply and broadly educated through focusing on learning outcomes that can be met with various combinations of courses across disciplines.
"The goal of CEP was to have the full community involved in re-envisioning the CSS," explains Lawrence. "We began by asking what skills and abilities we wanted all students to leave Lafayette with. Then, we held a series of open meetings designed to gain a sense of what faculty felt is at the heart of each disciplinary area. CEP used the ideas provided in those sessions to develop a set of learning outcomes that were then presented to faculty for further review and refinement."
The effectiveness of the new approach will be measured in the aggregate. Details of this next assessment phase are currently being developed by an assessment subcommittee of CEP.
The learning outcomes and proposed requirements will be subject to continual scrutiny and change. The new CSS has been designed to coordinate with efforts throughout the curriculum to assess whether students are learning what the College intends through all that it provides—courses, resources, pedagogies, co-curricular opportunities, and more.
The College's earlier attempt to develop an interdisciplinary core curriculum—or at least bring some integration of arts, science, and engineering—occurred in the 1960s. Several faculty members attended a pivotal national conference in June 1967 on liberal arts education sponsored by the Danforth Foundation. Their report triggered a three-year-long assessment of the curriculum and the educational significance of unity among the arts, sciences, and engineering.
"When the new curriculum was finally approved in the spring of 1970, however, the gap between the B.S. and the A.B. programs was wider than it had been at any time since the Pardee Scientific Department was created in 1866," writes Albert W. Gendebien '34, in The Biography of a College (1986, p. 457).
But the attempt to unify the arts, sciences, and engineering through faculty development rather than curricular development was more successful. The College received a Sloan Foundation grant in 1973 for a three-year period to enable two members of the faculty each year—one from social sciences and one from engineering—to spend a sabbatical at a graduate school learning about the other's discipline. Then the two developed a course that drew on the relationship of the two areas of study, for example, Environmental Economics, and Technology and Public Policy.
That initiative was the foundation of the Values and Science/Technology seminars that became an integral part of the Common Course of Study adopted in 1991.
Whatever factors impinged on success 50 years ago are gone, and the recent process has brought about a cultural shift. The faculty approved a revised tenure process in the same year as the new CSS, and the year before approved changes in policy and procedures that replaced encumbrances to interdisciplinary cooperation with incentives. The 2007 strategic initiative to fill 35 new faculty positions over a five-year period has also been a factor. As of this fall, 18 positions have been filled including seven in interdisciplinary roles.
"The process of revising CSS has shaped the community and made faculty more deliberate about articulating the abilities they want students to have when they leave Lafayette," says Lawrence. "In addition, by defining learning outcomes for students we make them more aware of and ask them to be more reflective about their own learning experiences."
Students have the opportunity to connect, in an explicit way, the knowledge that they have gained in their courses to life beyond the classroom and by being engaged in their learning to apply their discoveries to what matters to them.
Edward N. Gamber, David M. '70 and Linda Roth Professor of Economics and head of the department, chaired the Curriculum and Educational Policy Committee in 2010-11 when the final proposal was written.