With the Quad under construction this summer, we had to alter our well-worn walking habits. One day as I followed an unfamiliar path, I stopped and became quiet and calm. I had an epiphany. Not a mindless melancholy, but a rational realization—the Quad is our center, a necessary feature of our world, our commons. I missed it.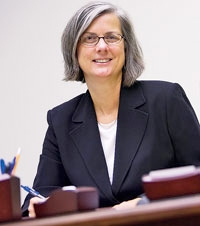 Lafayette College came to this ground, the Mt. Washington prominence, because of the insight of one, unusually confident, man.
In 1832, President Junkin submitted that the College suffered due to inadequate housing and insufficient funding. Meanwhile a stalwart Lafayette trustee, James Madison Porter, was looking north down the street from his Easton home. He stared across the unbridged Bushkill Creek at the sheer, nearly vertical, naked wall, which defined the creek's north bank. There was enough land atop to call it a plateau. Barren and almost treeless, the site was without ornament except for a withering sour apple orchard.
Porter struck an agreement to acquire seven acres of this plateau for the emergent Lafayette College. Constructioneers were hired. Prices were agreed to, subject to students providing much of the labor—with faculty pitching in as well. South College was built.
Students turned the apple orchard into firewood. They relocated rocks and boulders using them to shore up the sheer wall. Wooden timbers were set, creating a crude stairway from the plateau down the steep 160 feet to the creek. And from the outset each graduating class planted a tree.
Students and faculty often labored together. They became a community. They forged a future. The plateau's plains became their commons. Their legacy became our destiny. Their commons continues today as ours.
After 180 years and a dozen acquisitions, Lafayette's main campus is 110 acres. Our greens are surrounded by beautiful buildings each uniquely adapted to our instructional and educational needs. Our commons maintains its status as an integrating hub in this community's commonweal. It connects us all—faculty to student, department to department, building to building. On this lawn, all intersects.
Skillman Library and its grand steps preside over our commons. Here Bill Buckley introduced us to thoughtful conservatism; Vernon Jordan deepened our understanding of oppression and struggle; Meryl Streep sang to us and made us long to visit Africa; Neil Armstrong carried us aloft with a powerfully transcendent heroism; and Maya Angelou stirred our souls with lyrical wisdom.
The Quad is our outdoor classroom; it is where we convocare to start the academic year; where we reconvene at year's end to herald student achievements at graduation; where alumni reconnect and reflect.
Our renewed Quad will be enhanced—for ambitious discourse and serendipitous learning; for engagement and exchange.
Wendy L. Hill
Provost, Dean of the Faculty,
and Rappolt Professor of Neuroscience