BUDGET BASICS
Greetings from Illinois College. Here's evidence that other people really do read our college magazines!
On behalf of President Axel Steuer, I am writing to thank you for the article, "College Budget 101" in the recent Lafayette Magazine (summer 2012). The President plans to share it with our Board of Trustees at their meeting Oct. 19 as an excellent basis for discussion of the financial challenges that also face Illinois College. He plans to include it as part of his presentation.
Thank you so much for your permission to share it. Congratulations on a first-rate publication.
— Ann Marie Stahel
Assistant to the President and Board
Illinois College
Jacksonville, Ill.

CONFERENCE KUDOS
The summer 2012 issue of Lafayette Magazine is a beautiful piece. I enjoyed reading "Informed Vision," which provided a summary of the conference on "The Future of the American Liberal Arts College in America and Its Leadership Role in Education around the World" and look forward to working with President Daniel H. Weiss on this important conversation.
— B. David Rowe
President
Centenary College of Louisiana
Shreveport, La.

EASTON-LAFAYETTE TIE
Thank you for covering Lafayette Day (see back cover and "Students Enjoy Lafayette Day Downtown," www.lafayette.edu) held in Easton to welcome students back to campus.Each year we see more and more students, faculty, and staff getting involved in our community. This is a credit to them, President [Daniel H.] Weiss, and the Board of Trustees. It is far better than my previous terms as mayor from 1984 to 1992. Lafayette students, faculty, and staff donated more than 30,000 volunteer hours last year to our various nonprofit and community groups. They are excellent role models for our youth, and the positive relationship with the College is very much appreciated.
— Mayor Sal Panto
Easton, Pa.

REUNION 2012 REMEMBRANCE
My wife and I greatly enjoyed the photos and vignettes about several of the alumni who returned for reunion in "Reunion 2012: Good Memories, Good Times, Good Deeds" on the College website. The notes that accompanied my photo perfectly captured the essence of what I tried to say. It was such a joy to be with members of Sally's class [Sally Elbert Kalin '87] and to express our gratitude for their dedication of the class gift to Sally's memorial fund.
— Ed '55 and Vivian Elbert
New Canaan, Conn.
Editor's Note: The fund is for a new scholarship for study-abroad students in the memory of Sally Kalin '87, who died in 2010 after an eight-year battle with breast cancer.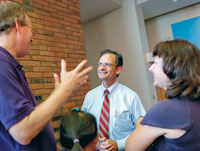 CLASS OF 2016 ARRIVES
I was so happy to have this wonderful "move-in" day video to watch ("Lafayette Welcomes the Class of 2016," www.lafayette.edu). We were too busy to even think to take pictures of our own. Loved being a part of Convocation, and I already feel welcome in the Lafayette community. My daughter loves it, too.
— Anne Stevens
Moorestown, N.J.

Correction
The biography of Geoff Gehman '80 on page 19 of Lafayette Magazine (summer 2012), should have read that Gehman is the author of Down But Not Quite Out in Hollow-Weird, an epistolary biography of Eric Knight, who is the author of Lassie Come-Home.
---
Send us your thoughts about this issue of Lafayette Magazine.
Stevie O. Daniels, Editor
Communications Division
Lafayette College
Feather House
17 Cattell St.
Easton, PA 18042
lafayettemagazine@lafayette.edu
Letters may be edited for length and clarity.