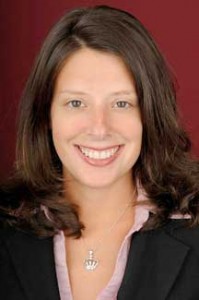 With a focus on inspiring others, Kathryn (Kate) Neligan '01 launched Synergy TV a year ago. The free, video on-demand network and website offers high-quality "entertainment that is inspiring and conscious in nature," she says. It's part of her company, Mindful Media Entertainment.
"I want to make consciousness cool," says Neligan.
Neligan began her career at iN Demand Networks (with then-CEO Steve Brenner '70), before moving to Los Angeles as marketing manager, American Film Institute and later vice president, LionsGate.
A psychology major, she holds a master's in spiritual psychology from University of Santa Monica.
Neligan's psychology knowledge helps her understand what motivates certain consumer choices. "My Lafayette education provides the foundation for the passions that continue to fuel my business and creative work."
Neligan tells her story as a contributor to Women Will Save the World (Absolute Love Publishing, 2012). "As I was writing it, I realized it was something I would have read in one of my women's studies classes," she says. "Things have come full circle."