by Kate Helm | photography by Chuck Zovko
Whether in the classroom at Broome Street Academy in New York City or on the island of Sumatra in Indonesia, Danielle Bero '07 is never without one accessory—a bracelet an Easton child made for her while participating in Lafayette's Kids in the Community (KIC) program. It reminds her of what is important and who matters.
What is important and has always been important to Bero is social justice. So important that she created her own major at Lafayette called creative media and social justice. Discovering who matters occurred when she worked as a KIC volunteer through the Landis Community Outreach Center. As KIC grew, Bero realized the programming could no longer accommodate children spanning ages 6 to 17, so she started a spinoff program called Teens in the Community.
She attended Lafayette through the Posse Scholar program, which organizes student leaders from urban public high schools into multicultural cohorts that enroll at top-tier colleges and universities nationwide to pursue degrees and help promote cross-cultural communication.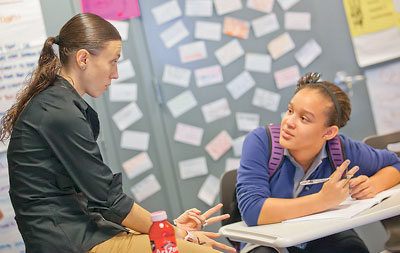 "I was clearly a city kid, and my thoughts and affiliations weren't part of the mainstream," says Bero, who lives in Harlem. "I fit in with most of the minority groups on campus and the social justice-themed groups, which led me to volunteer with KIC. The minute I went down the hill and met those kids, I knew that was what I wanted to do. I felt more comfortable and natural with them than I did with most of the campus community. Back in my social justice classes, I found that the solutions to most of the problems we discussed were access and education. If I could be involved in education, I could target a lot of the issues directly."
So, she began that journey by first winning a Fulbright English Teaching Assistantship to work at a high school outside of Jakarta, Indonesia, for a year. She taught students conversational English and helped them gain a better understanding of the United States. When she returned she began teaching English to sixth-, seventh-, and eighth-graders in the Bronx through Teach for America, a program that matches college graduates with urban and rural public schools in the nation's lowest-income communities, and enables them to complete a master's degree in education.
Bero received a master's in secondary English education at Herbert H. Lehman College, City University of New York, and is completing a second master's there in educational leadership/educational management.
Bero is now a founding teacher at Broome Street Academy (BSA), a charter high school that opened in the SoHo area of Manhattan last year. The school recruits students who are homeless, in foster care, or from low=performing middle schools. Through its partnership with The Door, one of New York City's leading youth development organizations, BSA also provides nonacademic services including counseling, health care, creative arts, and college prep programs.
"Students in foster care or transitional housing are one of the most troubled, at-risk, and forgotten populations," Bero says. "A school like BSA completely changes the game—and the trajectory of success—for them."
Bero teaches creative writing, coaches the boys' basketball team, runs the W.O.R.D.S. program, and serves on the committee that oversees the school's unique advisory program. Each student is assigned to a small group, guided by an adviser. Bero's role on the committee is to create the curriculum and lesson plans, which include team building, community service, and leadership.
W.O.R.D.S. (Writing Organization Reaching Dynamic Students) is a variation on an organization that Bero started at Lafayette, which began as an open microphone forum for student expression. Writing is popular with her students, who feel more comfortable using it as a means of personal expression. Lyndon Villaroel, a rising senior and one of BSA's first students, says that writing screenplays is his favorite class activity. He also enjoys class discussions, pointing out that Bero is a more patient and invested teacher than those he's had in the past.
Villaroel also plays center and forward on the basketball team. He says Bero's goal is the same on the court and in the classroom. "She wants us to push our limits and get better." It's the same encouragement she received from Mike Benitez, Lafayette's former director of intercultural development, who challenged her to "do more and do it better."
Bero strives to meet students "where they are." Most of her students relate more closely to Jay-Z than Shakespeare, so by integrating artistic genres that are already part of their world, like hip hop and film, she gives them more confidence to express themselves and stretch their learning beyond the familiar.
She can relate. Hip hop granted her access to literature and provided a framework for writing and self-expression. Her pupils study hip hop lyrics and culture and discuss misogyny in the music industry. They create their own 16-bar verses and choruses about topics that arise in class. The slam/spoken word unit builds on those skills.
"Hip hop can be visceral and gut-wrenching, and when I see my students have that same connection with their inner selves, it's a beautiful moment," says Bero, who records and performs her own work.
Bero's innovation not only makes her a favorite among students, but also among colleagues. Sarah Kolb '07, who teaches biology and forensic science at BSA, became friends with Bero through their Landis Center activities.
"Danielle has the most amazing rapport with her students," says Kolb, a biology graduate with a master's in secondary science education from Lehman College. "She creates a classroom culture where her students feel safe—safe enough to share their feelings in their writing, to take a chance in a performance, to try to put one of their poems to music when they never have before, and safe enough to try new things and know that making
mistakes is all right."
SPEAKING OUT
Indeed, Bero says that students engage more in her classes than in most of their other subjects. "They have intense dialogues and are very articulate when talking about topics that arise from their own cultural experience such as urban congestion, public transportation, and hip hop culture. My goal is to give them the language, framework, and encouragement to have those conversations."
But Bero wants to do more than teach. For instance, she wants her students to study abroad. As an undergraduate, she mentored and taught children for a summer in Namibia and South Africa and studied in Guatemala for three weeks during an interim session. She spent a year in Indonesia as a Fulbright Scholar.
These experiences broadened her perspective and deepened her commitment to teaching.
Bero's desire to explore the unknown and understand the complex post-9/11 political environment in the United States led her to the largest Muslim country in the world. With her host family in Medan on the island of Sumatra, she experienced a different kind of middle class. Refrigerators are rare, and families that have them do not use them for food that has been cooked, which is stored under baskets or on shelves. Bathrooms have squat toilets. Laundry is washed in a bucket.
With a population of two million, Medan's city streets are congested, with most people traveling by motorbike or a combination motorbike and jump seat called a becak. Bero taught English at a public high school and established a W.O.R.D.S. program. After some reluctance to accept a new English teacher, the students were won over by Bero's impromptu rap performance.
Bero also traveled throughout the country, visiting the islands of Java, Bali, Flores, Komodo, Kalimantan, Sulawesi, and Gili. She saw Lake Toba, surrounded by rainforests, and orangutans while hiking through the jungles of Bukit Lawang.
Considering Indonesia a second home, Bero has returned twice to visit her host family, students, and other friends. She does some writing and recording at Queen Music Studio in Medan; this summer, she recorded two new tracks and made a video set.
"My trips to Indonesia have produced some of the most meaningful experiences in my life," she says. "My first stay allowed me to grow up. I became more patient. It solidified my desire to teach. I felt the most intense homesickness and felt the most liberated. Being able to travel through Lafayette opportunities equipped me with the strength and knowledge to absorb into the culture. After a homesick moment, one of my students, a 16-year-old devout Muslim, wrote me a poem titled 'Ukhti' [sister in Arabic] that sealed the purpose of the program for me." A paraphrase: Even though "our culture and our country and our God are different, we will try to do the best for you and make you feel comfortable and try to become your best friend."
Bero wants her students to have the transformative experience that studying abroad provides. BSA will select 10 students for a cultural immersion program, in which they will study language and culture, and conduct team-building exercises. She will accompany them to Java, Bali, and Sumatra next spring.
In Indonesia and at Lafayette, Bero considered herself an outsider, but her open-mindedness led to her success. When she spoke at Commencement as the Pepper Prize recipient, she began with the simple truth that while she was glad to have attended Lafayette, when she first arrived on campus she hated the place, calling it "something straight out of an American Eagle ad. It was really hard to be somewhere where everyone was part of a majority to which you didn't belong… . It was a huge culture shock, and it took a lot of growth and understanding to move from intense anger and frustration to productivity and inspiration."
But, she had her posse. She also had Posse mentors Gary Gordon, professor and associate head of mathematics, and Liz McMahon, professor of mathematics. Maybe most important she had her adviser, Debbie Byrd, professor of English, who helped her create a major that bridged her interests.
"She was my backbone in many ways. She connected me to people and groups where I could flourish and really be successful," says Bero. "She taught me volumes about myself.
"Lafayette helped me define myself and put me in a position to speak for those who didn't have a voice. If I hadn't gone to Lafayette, many of the opportunities I have been able to take advantage of might not have existed. It provided me the very access that I try to provide to my students."