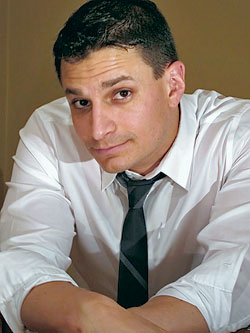 At the 33rd Annual Sports Emmy® Awards ceremony, Josh Oshinksy '00 and his team took home the top award in the outstanding edited series/anthology category in 2011 for The Franchise: A Season with the San Francisco Giants. These top awards in 33 categories of sports television production were presented by the National Academy of Television Arts and Science.
Oshinksy, founder and executive producer of Ocean Sky Films, New York City, which he started in 2007, was senior producer of the series by MLB Productions, which appeared on Showtime. He also received a New York Emmy for another 2011 production, Rockette Summer Intensive, for MSG Varsity in the teen: program/feature segment category.
"For the series we spent most of a full season following every move made by the defending World Series champion San Francisco Giants, both on and off the field, and turned that into an eight-episode docu-series," says Oshinsky. The award is the sports' equivalent of Oscar for Best Picture. An English graduate with a concentration in theater, Oshinsky says, "It was my love of theater that drove me to television and film production. Many aspects of theatrical precision correlate to producing television programs from understanding timing and layering audio to extracting the best performance possible from your subject."
Oshinsky tested his interest in television in the summer prior to his senior year when he interned for Inside Edition, and then during the year for WFMZ 69 in Allentown.
"But my education, both as a student and as a young adult, came directly from one professor—Michael O'Neill," says Oshinsky. "He was my adviser, my friend, and my mentor. As an educator Michael was excellent, but as an adviser and director he went far beyond what we as students had any right to expect. And, if you ask any of those he was closest too during that era, I think you'll find a fierce loyalty remains to this day. He certainly helped shape me into the man I have become, and I'm sure others would feel the same."
Oshinsky says the passion to create quality entertainment as a career stemmed from "the theatrical success we had as a program while I was at Lafayette." He worked at MLB and ESPN before becoming an independent producer.
Read more.