(Highlight from Participation Continues to Rise)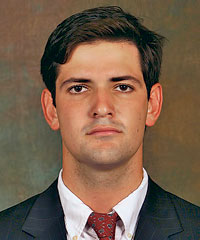 Inspired by the impact of studying abroad, Douglas Prusoff '12, of Fairfield, Connecticut, has given $100,000 to
establish the Douglas Prusoff '12 Student-Athlete Study Abroad Fund. The purpose of the fund is to provide support to Lafayette student-athletes, with preference to members of the men's lacrosse team, who wish to study abroad to gain important global viewpoints.
An American Studies graduate and lacrosse midfielder, Prusoff studied international sports marketing and Italian culture during the summer of 2010 in Florence, Italy, as part of a course offered by Fairfield University. "My experience in Italy was one of self-discovery. I learned valuable life lessons by stepping outside my comfort zone and gained a global perspective that changed my way of thinking."
Prusoff, a three-time Patriot League Academic Honor Roll selection, initially did not think study abroad was an option for him because of his rigorous training and game schedule until a friend suggested the summer program. Because of athletic training schedule constraints, many athletes do not consider the study-abroad program as a viable option to supplement their on-campus course work—a mindset Prusoff seeks to change.
"The fund's intention is to further my commitment to help grow and strengthen Lafayette's Lacrosse program," he says. "I see the fund as a resource to help attract talented players by offering an exclusive advantage to student-athletes who want an international educational experience."
The funding source is the William H. Prusoff Foundation, created and named after his grandfather, William H. Prusoff, a member of the Yale School of Medicine faculty for 57 years and a seasoned world traveler. An added benefit in establishing the student-athlete study-abroad fund is that it provides Prusoff a unique opportunity to honor his grandfather whom he respected and deeply admired. "My grandfather placed a high value on education and global citizenry, and now with this new fund in place, many student-athletes have the chance to develop the same appreciation."