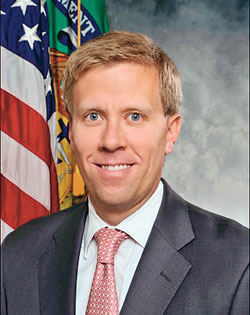 An early interest in economics was a harbinger of destiny for Matthew Rutherford '01. From advanced placement economics in high school, he now serves as assistant secretary for financial markets under Treasury Secretary Timothy Geithner. He was confirmed by the Senate in early August.
Rutherford advises on broad matters of domestic finance, financial markets, federal, state, and local finance, and federal government lending policies. He is responsible for the Treasury's management of the public debt. He previously served as deputy assistant secretary for federal finance, overseeing the office of debt management.
Rutherford says Lafayette prepared him well for the complex and weighty responsibilities of his job. He conducted EXCEL Scholars research with Harold M. Hochman, Simon Professor of Political Economy Emeritus, a leading authority on public sector economics and urban public finance. "We examined how addicts make decisions, looking to see if they make decisions differently from those who aren't addicts," he says. This behavioral approach to economics helped shape his thinking and piqued his interest in public policy.
Rutherford says his economics classes were "helpful from a policy perspective," whether thinking about costs and benefits, incentives, or increasingly, the behavioral side of the equation. "Public policy is about making decisions after assessing numerous competing objectives, quantitative considerations, and the facts," he says.
But, it was more than numbers that hooked him. Public policy touches on topics from politics and labor laws to environment and religion. It requires the ability to see the big picture, consider the context, think critically, and make difficult decisions after evaluating reams of data. That's where the value of his history minor applies. "I recall classes with Professor Andy Fix especially. Those lectures based on the Socratic method stay with me to this day. We go back and forth all day in our office, discussing issues."
Rutherford visited campus this fall and led discussions with Investment Club, Professor Michael Kelly's investment class, and the Fed Challenge team. He also talked informally with members of the economics faculty and honors students.
Rutherford holds a master's in public policy from University of Chicago and previously worked at the Federal Reserve Bank of New York.