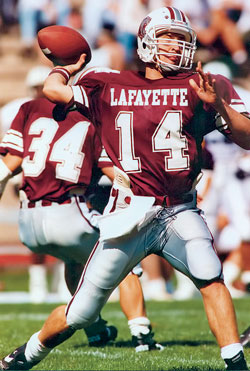 Two former student-athletes, a coach, and a trio of national championship teams joined the Maroon Club Hall of Fame Nov. 16. They are Tom Kirchhoff '93 (above), Hope McCorkle '98, Ann Gold, and the 1896, 1921, and 1926 football national champions.
The 1992 Patriot League Player of the Year, Kirchhoff ranks among the College's top quarterbacks. His 6,709 career passing yards are the third-most in Lafayette history and 12th-highest in the Patriot League. Co-captain of the 1992 Patriot League Championship team, he is third in program history in career completions (510) and touchdown passes (53). His 26 touchdown passes in the 1992 campaign are the second-highest single-season total in Lafayette history. A semifinalist for the Johnny Unitas Golden Arm Award in 1992 as one of the top senior quarterbacks in the nation, he received the 1993 Charles L. Albert '08 Award at Lafayette.
After graduation, Kirchhoff signed a professional contract with the Philadelphia Eagles. He is a third-generation owner of Cleveland Brothers Equipment Company.
McCorkle '98 was a record-setting performer in both track and field and volleyball. Recipient of the 1998 Charles L. Albert '08 Award, she was a five-time All- Patriot League performer in track and field. She won three individual Patriot League titles in the shot put and is program-record holder in three events—indoor shot put stood until 2008 and remains second all-time, outdoor shot put mark ranks third, and javelin throw is third best.
She earned three Second Team All-Patriot League nods in volleyball and ranks first in Lafayette history and second all-time in the Patriot League with 611 career blocks. She holds the top four spots on the Leopards' single-season blocks list and appears three times on the Patriot League's single-season top-10 list. She is Lafayette's all-time kills leader, currently ranking third with 1,169 finishers.
McCorkle, a marketing specialist, resides in Easton. A 19-time Patriot League champion in her 25-year career at Lafayette, Gold is the most accomplished head coach in the history of Leopards' field hockey and women's lacrosse. As head field hockey coach from 1982 to 2006, she led nine Patriot League regular season championships and three Patriot League Tournament crowns. Gold, who also guided Lafayette to two East Coast Conference titles prior to the inception of the Patriot League, won a pair of ECAC titles and was recognized five times as Patriot League Coach of the Year.
As head of women's lacrosse (1983-1999), Gold won seven Patriot League Championships and was a two-time Patriot League Coach of the Year. She also led the Leopards to three East Coast Conference titles in the pre-Patriot League era.
Gold and her husband, Mike, reside in Bonita Springs, Fla.
The 1896 football team posted an 11-0-1 record— highlighted by 10 shutouts—en route to Lafayette's first national championship. Coached by Parke Davis, the team included Hall of Famers halfback George "Rose" Barclay 1898 and guard Charles "Babe" Rinehart 1898.
A 28-6 victory at Lehigh concluded a 9-0 season and a national title for the 1921 club. Hall of Famer Dr. John B. "Jock" Sutherland coached the team that included Hall of Fame honorees Charles F. Berry '25, Mike Gazella '23, and Frank J. "Dutch" Schwab '23.
The 1926 national champions had a perfect 9-0 season. Helmed by Hall of Fame Head Coach G. Herbert McCracken, the team included Hall of Famers Frank Kirkleski '27, George B. "Mike" Wilson '29, and Frank Grube '27.