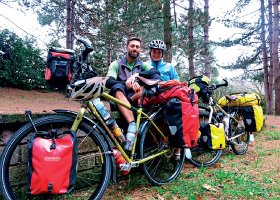 A year ago, Doug and Kristin Nahm Walsh '97 quit their jobs and sold their house. On custom-equipped Salsa Fargo bicycles, they pedaled east from Seattle. They haven't been home since.
Their journey has progressed through Idaho, Montana, North Dakota, Minnesota, Ontario, Quebec, Maine, New Hampshire, Vermont, New York, New Jersey, England, Scotland, Denmark, the Netherlands, Germany, France, Spain, Morocco, and Italy.
Doug, a videogame strategy guide writer, and Kristin, project manager at Expeditors International, are experienced outdoor enthusiasts. They say their long-planned adventure of cycling the globe enables them to challenge conventional expectations and to experience the world on their terms.
Most fun so far? "Nothing beats a lengthy downhill," says Doug. "We enjoyed some 12- to 15-mile descents that made us forget the hours of pedaling it took to get to the top."
Their bicycles are equipped with front and rear panniers to carry tent, clothing, and other supplies. Some nights they camp out; others they stay in hotels or hostels.
"The ground was so sloped and rocky in Morocco that it was hard to find a place to put a tent that wasn't freshly tilled farmland," says Kristin. This led to some tense moments as darkness fell. I learned to trust that all would work out. I know now that I can handle the unknown more than I thought I could."
Doug, a geology graduate, was a member of the track and field team. Kristin is a biochemistry graduate and earned an MBA from Seattle University. They met during first-year orientation.
After racking up 9,523 miles on prairies, mountains, city streets, canal paths, and desert tracks, the couple is currently on hiatus spending time with Kristin's terminally ill dad. The bicycles are stored in Rome, waiting for them to pick up where they left off. They plan to mount up in September and keep pedaling.
— Sharon Sanders
Follow the journey at http://www.twofargone.com.