By Alan Finder | Photography by David Coulter, Doug Kilpatrick, Chuck Zovko
Hundreds of people milled about a huge hotel ballroom overlooking Times Square, sipping wine and munching hors d'oeuvres, when suddenly a pep rally broke out in midtown Manhattan. The bands from Lafayette College and Lehigh University strutted out on a circular balcony above, marching to the drummers' rat-a-tat beat. Cheerleaders from the two intense but friendly rivals snaked through the crowd.
Moments later, President Alison Byerly was among those who welcomed the gathering to what she described as "the reunion to end all reunions," a two-day festival leading to the historic 150th Lafayette-Lehigh football game at Yankee Stadium before a sold-out crowd of 48,256. The revelers, festooned in hats, scarves, and fleece in the schools' colors, roared in approval.
There was certainly much to cheer about. Over 48 hours, Lafayette alumni were treated to more than two dozen events of a dizzying variety, from a kickoff luncheon with coach Frank Tavani on Thursday to a dinner Friday in an expansive hall beneath the replica of a whale at the American Museum of Natural History. The dinner launched the public phase of the $400 million Live Connected, Lead Change campaign.
Alumni and faculty embraced the city and the College's intellectual diversity. There was something for everyone: from boat tours circling Manhattan to a lecture on the development of midtown Manhattan in the Roaring Twenties; from a talk on the history of the Crimean Peninsula to a panel discussion on financial markets at Morgan Stanley's headquarters, a few blocks from rivalry week headquarters at the Marriott Marquis in Times Square; from a backstage stroll through the Metropolitan Opera to a tour of the Museum of Natural History by David Sunderlin, associate professor of geology and mentor of the field hockey team.
Lafayette's proximity to New York City provides myriad opportunities for students and faculty to take advantage of the world capital of finance, culture, arts, and the media, less than 90 minutes away. In the days prior to the football classic, the College practically picked up and moved to Manhattan.
For example, a group of 30 alumni visited seven art galleries in Chelsea, led by Bob Mattison, Metzgar Professor of Art, with Mirielle Basselli '16 and Andrea Cervie '08 of D.C. Moore Gallery. At three stops, featured artists discussed their work and answered questions.
"It was wonderful to meet the artists and see the galleries," said Scott Greenberg '78, who traveled from Orlando, Fla., with his wife, Marci, for the weekend.
Rick Beltram '73, of Spartanburg, S.C., said he had to be in New York for the 150th meeting of college football's most-played rivalry. For 20 years, he has organized a gathering in his hometown of fans from both sides to watch the telecast.
"There's a continuity of the school not forgetting about you. There's an intimacy. When we come up, they make us feel comfortable and welcome."
Dr. Chuck Lusch '57, a retired cancer specialist from Wyomissing, Pa., said: "The four years at Lafayette were the best years of my life. I got the best education that I could have hoped for."
Scott McKeown '81, of Baltimore, and George Winter '83, of Chicago, spent months making plans with 20 friends and fraternity brothers. "It's not so much about the game, it's about who I'm going to see," said McKeown. "It's a focal point that allows you to make these connections."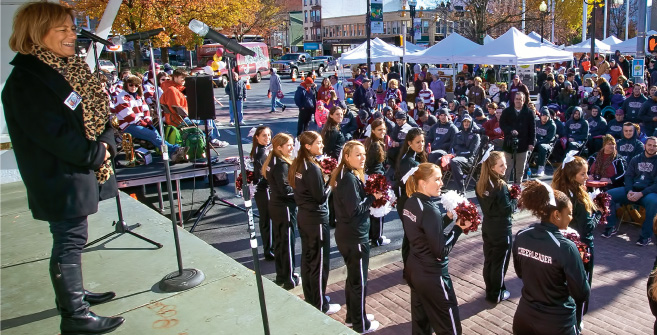 A highlight was a dinner Thursday to celebrate the pioneering women of the classes of 1974 to 1980, who transformed the formerly all-male college. A thunderous cheer went up from the crowd when Trustee Barbara Levy '77 introduced Byerly as "the first woman president of Lafayette College."
Maureen Hailey '77, a lawyer from Williamstown, N.J., said: "I wanted to come back for this event to catch up with people and to represent women of color."
On Friday, after Don Miller, MacCracken Professor of History, lectured about the personalities who transformed midtown Manhattan, Lisa Kassel '79, president-elect of the Alumni Association, said, "it was fascinating and wonderful. Whenever Prof. Miller comes to New York, I go to his lectures." She had tickets to the game, too, along with her husband, Mitchell Winter '79. Their daughter is Rebecca Winter '13. "We bleed maroon, as they say."