Praise for "Call of Duty"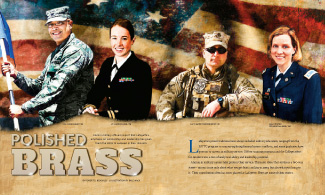 I was so pleased to see the summer issue recognize the importance of the military and ROTC at Lafayette. I enrolled in ROTC, and although I am not sure why, I suspect I considered it an "easy course" that might help my grade level. Knowing that I was headed to Korea, my cousin—Robin Roark '52—and I decided after graduation to volunteer and enter Ranger training. It was 12 weeks of pure hell, but we both made it. When we were shipped to Korea, a truce had been signed, and we were too late to see action. But my entire experience with the military, starting with Lafayette, taught me two things: 1) most of my lack of confidence had been self-imposed, and 2) you NEVER, NEVER give up. It changed my life, and I am so grateful to Lafayette for giving me that start.
—Hugh Jones Jr. '52
Jacksonville, Fla.
I was delighted with the summer edition of Lafayette. When the College ended the requirement to participate in ROTC in 1970, I felt it removed one of the great student opportunities and experiences I had. In 1956, ROTC had about 700 cadets from the freshman and sophomore classes and about 120 among the juniors and seniors. Lafayette had specific branch designations for those in advanced ROTC. Liberal arts students wore the Infantry Crossed Rifles; engineering students wore the Ordnance Pot and Flame. I also enjoyed the beautiful photograph of Alumni Memorial Gym where I spent so much time since I was a football player, swimmer, and member of nearby KDR House. During my Reserve career, I was invited to campus on several occasions by the ROTC department to share with students what it was like to have an active career as a practicing lawyer and continue to serve as a JAGC officer in the Army Reserve. Thanks for the wonderful articles highlighting alumni who have served or are serving, and those students who are about to serve.
—Duncan W. O'Dwyer '60
LTC., JAGC, USA (Ret.)
Rochester, N.Y.
When I read Lafayette magazine, I see evidence of many alumni who have pursued their dreams, making their marks and achieving great things in the fields of science, business, medicine, law, and other careers. I take particular pride when I read about those who are serving, or have served, in our military ("Polished Brass," summer 2014). In June, two of my sons and I had the great privilege of visiting Capt. S. Robert Roth '81 aboard the USS Harry S. Truman, which received the East Coast Battle Efficiency award for sustained superior performance in an operational environment during his command. As part of a family and friends cruise, we explored the ship and watched the crew launching and retrieving aircraft. The ship was deployed to the U.S. 5th fleet area, including the Persian Gulf, and participated in Operation Enduring Freedom. As alumni, we can be proud of Lafayette's long commitment to military education and the many men and women who have served our country with distinction, and continue to support students and graduates who choose that field.
—Bob Kleinert '82
Basking Ridge, N.J.
---
State of the College Address
Nice job ("Reunion 2014: President Alison Byerly Gives First State of the College Address," comment section, www.lafayette.edu). Refreshing viewpoint. Glad she came to Lafayette. Especially like the emphasis on social value added educational approach and preservation of Greek life as an option.
—David Spencer '67
Bedford, Mass.
---
Kudos for Lafayette Calendar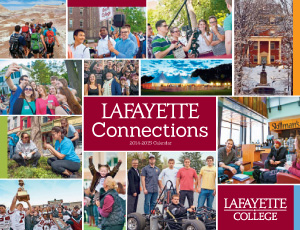 Thank you for the Lafayette 2014-15 calendar "Lafayette Connections," which arrived during the summer. I've been using them for years, and particularly enjoy the campus scenes pictured each month. While much has changed since my dad, Gustave G. Kein Jr., graduated in 1927, and I graduated in 1959, the campus still retains its signature character.
–Donald Kein '59 and Edward Kein '94
Summit, N.J.