"Biodiversity Loss: Cause, Consequences, and Choices" was the focus of the 11th annual Multidisciplinary Environmental Poster Session held in December in Farinon College Center.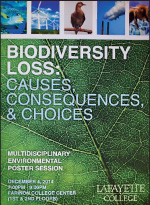 More than 140 students from the following courses participated: Environmental Biology, Prof. Nancy Waters; Environmental Engineering and Science, Prof. Art Kney; Alternative Energy Sources, Prof. Javad Tavakoli; Environmental Chemistry, Prof. Melissa Galloway; Environmental Economics, Prof. James DeVault; and Introduction to the Environment, Prof. Jessica Hejny.
Five teams that included 87 alumni from Pennsylvania, New York, and New Jersey as well as Lafayette faculty and staff members judged each poster. The posters were rated on content, presentation, and background knowledge of the presenter.
The five winning posters and presenters:
"The Role of Wetland Characteristics in Shaping Plant Biodiversity," Virginia Hoyt '16, Andrew Goldberg '15, Julianna Vuotto '17
"The Ecological and Economic Impacts of Invasive Myriophyllum spicatum in Merrill Creek Reservoir," Sarah Woodruff '15, Shannon Lenahan '15, Brittany Flynn '15
"The Florida Everglades: The Effect of Burmese Pythons on Biodiversity," Ingrid Yovo '17, Andras Doolittle '17, Nicholas Gates '17
"Construction Erosion and Its Effect on Biodiversity," Sarah Walko '15, Phillip Manna '15, Julia Kripas '15
"Recycling and the Earth's Oceans," Austin Bashline '16, Kieran Proper '16