The Lafayette ConnectEd Project will launch in January with three one-week modules led by faculty for students on campus and for alumni participating online from around the world.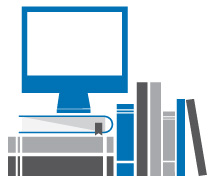 These non-credit sessions were developed in partnership with faculty members, research students, and instructional technologists. In addition to traditional in-person class time and curated extracurricular reading and other materials posted online, each module will feature live discussion sessions.
To register, go to
www.lafayette.edu/connected
Jan. 5-9
President Alison Byerly
"Fictional Worlds"
Why do some novels and films seem so vivid that they make us feel we have entered a new world? This course explores narrative techniques associated with realism and examines works that seem to blur the boundary between fiction and reality.
---
Jan. 12-16
Tim Laquintano
assistant professor of English
"The Rise of Serious Video Games"
Used in the military, health care, and museums, video games have become a form of learning and persuasion. The topic is explored through readings, media content, and game play.
---
Jan. 19-23
Chip Nataro
professor of chemistry
"A Catalyst for Change"
You may have used the phrase "a catalyst for change" or be familiar with the catalytic converter in your car, but what exactly is a catalyst? Catalysts used in energy production help inform this study of catalysis.