Orientation for the 649 members of the Class of 2018 began Aug. 21 with a focus on building class identity and affinity with the College.
The students came together to form a giant "L" on Fisher Field for their group photograph and then met with orientation leaders to begin a four-day program introducing them to the College's community values, its unique blend of liberal arts and engineering, history, and academic life. Organized in cohorts of about 40 students each, they will have ongoing meetings through the year to build and maintain connections with their groups.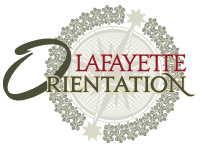 The summer reading assignment was The Sixth Extinction: An Unnatural History by Elizabeth Kolbert. Its theme will be featured during the year through presentations, gallery exhibits, and speakers. In a new feature–LAF Talks–faculty members from each academic division explained the reading through their particular disciplinary perspectives.
Orientation leaders performed a series of skits called LAF as We Know on topics to help students in their transition to college life such as making responsible choices and adapting to a diverse residential environment.
In a campus-wide scavenger hunt called Hunt on the Hill, students worked together to solve riddles designed to increase their knowledge of the College's resources and history.
The final event, Convocation, was held Sunday to open the 183rd academic year. Speakers included President Alison Byerly and Student Government president Connor Heinlein '15.