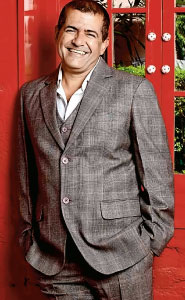 "Don't ask me to change a light bulb please," AD Singh '84 warns us in jest, as we dig into a thin-crust pizza. We are seated inside Singh's landmark restaurant, Olive Bar & Kitchen in Bandra—the place he set up 14 years ago, way before Olive became an iconic national brand. In his 23-year journey as a restaurateur, Singh has won more food awards than most of his peers—not a mean achievement for a man who has no background in business and who was packed off to the U.S. in the '80s to become an electrical engineer.
"I was good at mathematics and English but a disaster as an engineer," he laughs, recalling his days at Lafayette. [An electrical engineering graduate, he spent a few years working with TCS and then Cadbury.] Being exposed to the culture of entrepreneurship and freethinking taught him his greatest lesson in life. "I realized that my career had to be in something I was passionate about. I had to love my work. And quite simply I loved food. I had a perennial sweet tooth." Thus was born Just Desserts in 1990—Bandra's first stand-alone dessert and coffee shop.
Many other firsts followed: the city's first floating bar, Suzie Wong, and the iconic Bowling Company among them. "I guess luck played a part, but I was also driven by my passion," Singh tells us. Olive's chief says he didn't make much money from these ventures, but what he learned was immeasurable. "I now had credibility," he sums up.
The big leap came in 2000 when Olive opened in Bandra and then in the next 13 years, all over India, winning several best restaurant awards on the way.
So has life changed post the success of his business? "I am now able to do what I want to do with the pieces in place first, instead of trying to scrape together money every time I want to open a new restaurant. Otherwise, I am the same person," says the man who now owns 17 state-of-the-art restaurants in six Indian cities.
—Dhiman Chattopadhyay
Excerpted from "AD Singh's Mantra for Success" (Mid-Day, March 23, 2014) and published with permission. Read the full story at http://bit.ly/1w61ECD.