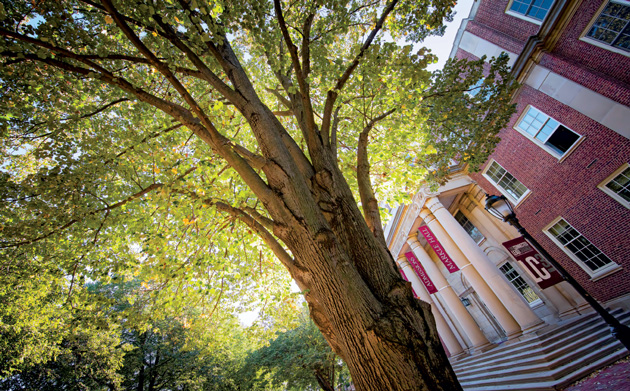 by Dave Block '93
As a member of the International Dendrology Society, professional garden designer Marie-Christine de Laubarede P'18 has organized tours of plants and trees around the world. So when the London, England, resident was visiting her daughter, Aliénor d'Arenberg '18, during Family Weekend last year, she was interested in the campus landscape tour.
"Lafayette College is home to many different varieties of trees, ranging from native species to a variety of non-native plants, which I like to call 'exotics,'" says Dave Kovach, the College's landscape designer and horticulturist. "You can experience the uplifting effects trees provide by taking a walk behind Colton Chapel and seeing the pure beauty in the two weeping Japanese maples that flank both sides of the statue of General Lafayette."
As de Laubarede encountered some of the more than 120 species of plants and trees on campus, she kept asking tour leader Kovach for their names. It seemed a shame, she thought, that even the older "champion" trees were unidentified.
She decided to give a gift to fund tree markers, but they weren't simply going to be ordered from a company. This project was going to happen Lafayette style—through interdisciplinary collaboration.
De Laubarede provided a list with each tree's American common name, Latin name, family, and places of origin. Chemical engineering students created the markers with a 3-D printer, which itself was a gift from Kent Rockwell '66. Professor
Anna Edlund made plans for a biology student to create a website with information about the trees. And Mary Wilford-Hunt, director of space management, landscape and special projects, coordinated the project.
After two prototypes were installed in front of Markle Hall in March, nine more markers were placed this summer, adding an educational component to Lafayette's tree-filled campus.
The American common name, Latin name, family, and areas of origin for the 11 trees on Lafayette's campus with markers:
Silver Linden
Tilia Tomentosa,
Malvaceae; Southeast Europe and southwest Asia
---
Dwarf Serbian Spruce ("Nana")
Picea omorika
,
Pinaceae; Southeast Europe and West Siberia
---
Eastern Redbud ("Forest Pansy")
Cercis Canadensis
,
Leguminosae; Central and East North America
---
Little Leaf Linden
Tilia cordata
,
Malvaceae; Europe and West Asia
---
Katsura Tree
Cercidiphyllum japonicum
,
Cercidiphyllaceae; China and Japan
---
American Elm
Ulmus Americana
,
Ulmaceae; East North America
---
Yellowwood
Cladrastis kentukea
, Leguminoseae;
Southeast United States
---
Black Gum
Nyssa sylvatica
,
Cornaceae; East North America
---
Willow Oak
Quercus phellos
,
Fagaceae; Southeast United States
---
Weeping Higan Cherry ("Snow Fountains")
Prunus "Snofozam,"
Rosaceae; Japan
---
Cut Leaf Japanese Maple
Acer palmatum var. dissectum
,
Sapindaceae; Japan, Korea, China