by Bryan Hay
Induction into the National Academy of Engineers is the engineering equivalent of the Pulitzer Prize or a gold-plated Academy Award.
"It's the highest accolade an engineer can achieve in the U.S.," says NAE Executive Director Alton Romig Jr., who received his B.S., M.S., and Ph.D. from Lehigh University. Lucky for him, his predecessor and current senior adviser is one of ours, Lance Davis '61.
Imagine that, Lafayette and Lehigh grads at the helm of an organization that grew out of the National Academy of Science, which was founded by Abraham Lincoln in 1863 to address scientific problems during the Civil War. One of NAS's first tasks was to figure out how to keep compasses working on board the Navy's new "ironclad" battleships. The solution involved small magnets to offset the effects of the iron plates. Fifty leading scientists, physicians, and engineers were inducted that first year and tasked with advising the government on matters of science
and technology.
In 1964, the National Academy of Engineers was created under the same Congressional charter. Membership is fixed at approximately 2,000 at any one time, and today's roster includes such luminaries as Microsoft cofounders Bill Gates and Paul Allen; Google cofounders Larry Page and Sergey Brin; and Wernher von Braun, the developer of NASA's Saturn 5 Rocket.
"The caliber of who is elected to this academy is stunning and staggering," says Romig, who was inducted in 2003.
Below are 10 Lafayette alumni who achieved what many of them described as the humbling experience of NAE membership.
Michael A. Celia '78
Inducted in 2016
Ever since he was a kid, Easton native Michael Celia '78 had an interest in anything related to water and an unquenchable curiosity about what happens to rain after it reaches the ground.
"Hydrology is connected to everything, from droughts, rainfall, and the melting of ice—it's all water," says Celia, the newest member among the Lafayette community to be inducted into the NAE.
Celia is the Theodora Shelton Pitney Professor of Environmental Studies and professor of civil and environmental engineering at Princeton University. His research in subsurface water flows, particularly groundwater contamination and remediation, and geological carbon sequestration, which involves underground injection of carbon dioxide captured from industrial emissions, earned him a place in the NAE.
"Many of the consequences of climate change that will impact us involve water. No matter how you look at it, you can't avoid it," says Celia, who graduated from Lafayette with a bachelor's degree in civil engineering and went on to earn his master's and doctorate degrees in civil engineering at Princeton.
"The good news is that lots of technology exists that can solve many of the environmental problems we're facing if we decide collectively that it's something we want to do."
---
David Spencer '67
Inducted in 2014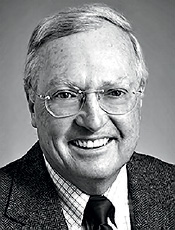 David Spencer '67 graduated with a bachelor's degree in metallurgical engineering, but his choice of major and ultimate success in advancing metal-casting technology started in a very unlikely way.
"I hate to tell you, but when I was at Lafayette and a member of Phi Delta Theta, about five or six of us in the pledge class one year decided what the heck, let's give metallurgy a try," says Spencer, founder and chairman of wTe Corp., a plastic and metal recycling company based in Bedford, Mass.
Growing up poor in Abington, Pa., Spencer followed his dad, John '33, and uncle, Harold '35, to Lafayette on a scholarship from General Motors. By his junior year, his academic performance was
so abysmal that a GM representative came to campus to tell him the scholarship was at risk unless he improved.
"That was it. I picked it up," Spencer recalls. Although retired from wTe Corp., which he founded in 1981, Spencer still has a deep interest in his company, one of the largest plastic recyclers in the world, receiving 7 million beverage bottles a day. The company also has one of only three auto shredders in New England.
"When I was a graduate student at Massachusetts Institute of Technology, I fortuitously invented a new process for casting metals," Spencer says.
Called Thixocasting,® it led to new casting technology deployed worldwide for high-performance metal castings. He likened the process to making Italian water ice, which freezes over a range of temperatures and can exist in a solid-like or a liquid-like mushy state.
---
Robert Miller '63
Inducted in 2009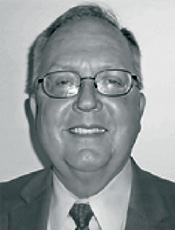 Robert Miller '63 started out at Lafayette as a chemical engineering major but switched to chemistry when he discovered that he enjoyed materials, more than processes and systems.
His passion for materials has been so strong and enduring that he's now in his 47th year in the IBM Research Division, spent largely at the IBM Almaden Research Center in San Jose, Calif., with no current plans to retire.
"As an engineer, the greatest thing you can do is good science that affects technology, which in turn somehow impacts society in a positive way," says Miller, who was inducted into the NAE for
his inventions of polymeric materials for lithography, porous dielectric materials and other materials for microelectronics.
After graduating from Lafayette with a bachelor's degree in chemistry, he went on to earn his doctorate in organic chemistry from Cornell University.
"Lafayette should be proud that it has alumni in the NAE," says Miller, who developed polymeric materials that helped advance the microelectronic industry and other engineering processes for semiconductor manufacturing. "It says a lot about how the College influences people while they're on campus and how it continues to impact people through the course of their lives."
---
John Kulicki '65
Inducted in 2006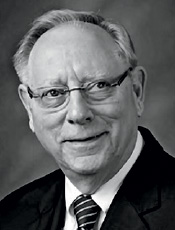 John Kulicki '65 credits his high school guidance counselor and his twin brother for pointing him toward civil engineering.
"I was interested in forestry and becoming a forest ranger, and it's a good thing that didn't work out," he laughs.
Kulicki, who graduated from Lafayette with a bachelor's degree in civil engineering, spent more than 40 years at Modjeski and Masters Inc., a bridge engineering firm in Mechanicsburg, Pa., retiring in 2013 as its chairman. He still holds the title chairman emeritus.
He was elected to the NAE for his design of major bridges and for leadership in the development of load and resistance factor design specifications.
"My interest in bridge design was really cultivated at Lafayette," says Kulicki, who grew up on Long Island, N.Y., and received his master's and doctorate degrees in civil engineering from Lehigh University. "Lafayette was unique among colleges in that it had professors who had a great deal of practical design experience in bridges."
---
Gerret A. Blaauw '48
Inducted in 1998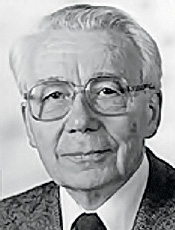 Gerret A. Blaauw '48 received a degree in electrical engineering from Lafayette before earning his M.A. and Ph.D. from Harvard University. He later worked at IBM where he became known for his methodological manner of building computer machines, noting a clear distinction among the architecture, implementation, and realization. He played a pivotal role in the development of the IBM System/360, considered to be the first modern computer. Among other contributions, Blaauw made the successful case for an 8-bit (as opposed to 6-bit) computer architecture. After leaving IBM, he became a computer science professor in the Netherlands and helped start Technical University Twente.
---
Lance Davis '61
Inducted in 1992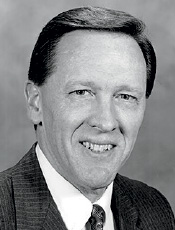 Lance Davis '61 still takes notice of the shuttered Sun Oil refinery plant when he's driving north on Route 495 through Delaware. "These were huge towers, 100 feet tall, and it was
my dad's job as part of the maintenance department to get them back online after making repairs," he says. "He didn't have a college degree, but he always said that the metallurgical engineers he knew were the smartest guys in the refinery, the hands-on guys.
So I went from there."
Davis was elected to the NAE for personal contributions to and leadership of the development of novel amorphous and microcrystalline materials via rapid solidification technology, which involved rapid cooling of iron alloys to produce magnetic strips used every year in hundreds of thousands of transformers.
Davis spent more than 25 years at Allied-Signal Inc. of Morristown, N.J., where he was appointed vice president of corporate research and development in 1984. In 1994, he joined the Defense Department as deputy director of defense research and engineering until 1999. Davis then served as executive officer and chief operating officer of the NAE until 2015.
He credits Lafayette, where he earned his bachelor's in metallurgical engineering, for giving him the tools needed to earn his master's degree in engineering and doctorate in engineering and applied science from Yale University.
---
Richard Alkire '63
Inducted in 1988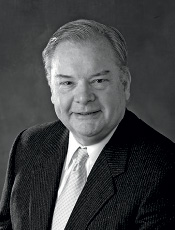 Growing up on Second Street in Easton, Richard Alkire '63 remembers walking across the Lafayette College campus on his way home from March Elementary School, down the College steps and back into the city.
But even with such an intimate tie to the campus and College Hill, it was not clear to him until high school that Lafayette might be a possibility to pursue chemical engineering.
"My brother Ed ['58] went to Lafayette as a chemical engineering major," Alkire says. "He inspired me every time he talked about engineering and whenever he showed me his mechanical drafting equipment."
One of his most powerful draws into engineering came from his membership in the College choir, then conducted by the legendary John Raymond.
"Dr. Raymond was a real pro and paid attention to every little whisker in a piece of music. It was the kind of discipline I responded to as a developing engineer."
Later, more life-changing inspiration came from chemical engineering professor Zbigniew Jastrzebski, whose knowledge of the electrochemistry behind corrosion was only surpassed by his stories of service during World War II.
"He guided me to University of California at Berkeley, where I got my master's and doctorate in chemical engineering," he says.
Alkire, of Champaign, Ill., retired vice chancellor for research and dean of the Graduate College at University of Illinois, was elected to the NAE for his imaginative research on engineering aspects of electrodeposition and corrosion, and leadership in electrochemical engineering.
---
John W. Landis '39
Inducted in 1981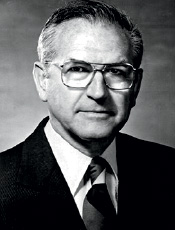 John W. Landis '39 was president of Gulf General Atomic Co. and of Stone & Webster International Corp., president of three international technical societies, and chair of the American National Standards Institute, Fusion Power Associates, and the U.S. Energy Research Advisory Board. He was a founder of the American Nuclear Society and was active for many years in the effort to establish uniform standards in the energy industry. His numerous honors include the Winston Churchill Medal of Wisdom and the Henry DeWolf Smyth Nuclear Statesman Award. Landis earned a B.S. in engineering physics from Lafayette and furthered his studies at Princeton University, University of Wisconsin, Ohio University, and University of Rochester. He died in 2013.
---
S. Donald Stookey '37 (M.S.)
Inducted in 1977
A pioneer in glass chemistry, S. Donald Stookey '37 opened up a new field of science: the nucleation of crystallization in glass. His work led to the development of materials used in computers, the nose cones of supersonic guided missiles, and Corning-Ware, to name just a few. In 1986 he received the National Medal of Technology from President Ronald Reagan during a ceremony at the White House. Stookey earned a liberal arts degree in chemistry and math from Coe College, an M.S. in chemistry from Lafayette, and a doctorate in chemistry from Massachusetts Institute of Technology. Stookey died in 2014.
---
W. Spencer Bloor '40
Inducted in 1979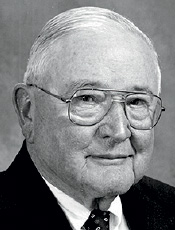 W. Spencer Bloor '40 contributed to the reliability and economy of electric power production through design application of complex control systems. He spent the majority of his 41-year career with Leeds and Northrup Co., now a unit of General Signal Corp., in a variety of management positions, including manager of steam and nuclear power systems. Bloor earned a bachelor's degree in
electrical engineering from Lafayette.
He was active in the Institute of Electrical and Electronics Engineers, American Association for the Advancement of Science, Instrument Society of America, and National Society of Professional Engineers. Bloor died in 2002.