Government service must be attractive enough to lure our most talented people," said President John F. Kennedy a half-century ago. "It must be challenging enough to call forth our greatest efforts. It must be interesting enough to retain their services. It must be satisfying enough to inspire single-minded loyalty and dedication. It must be important enough to each individual to call forth reserves of energy and enthusiasm."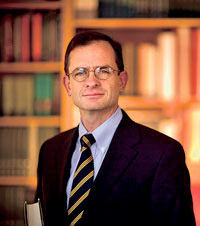 Today, as throughout the College's history, graduates of Lafayette serve their communities, our nation and others, and our world in a wide variety of valuable and inspiring ways in every field of endeavor, or nearly so. This issue of Lafayette Magazine highlights alumni serving with distinction and pride in the public sector. These talented men and women entered public service by way of a range of majors at their alma mater, including, notably, government and law, of course, but not limited to that field. For some, their roles are informed in addition by advanced study and by professional experience in other arenas, including business, law, education, and the military.
These alumni in public service clearly have not given in to the cynicism and individual pragmatism so prevalent in these turbulent times. Quite the opposite. Perhaps they find some measure of inspiration, as we do as a College, in the Marquis de Lafayette's life of service in the cause of freedom. Judging by their effort, loyalty, dedication, energy, and enthusiasm, it is evident that they find public service attractive, challenging, interesting, satisfying, and important. President Kennedy would be pleased.
We, too, should be pleased, for, as the Reverend Professor Peter Gomes of Harvard said in his Baccalaureate sermon on our 172nd Commencement Day in 2007, "Success does not consist in doing what we want to do, doing what we set out to do, or even doing what we are good at. Success consists of doing that which is worth the doing." I hope you enjoy this issue.
Daniel H.Weiss