Outstanding entries in the annual Study Abroad Photo Contest are on view in Farinon College Center. Images taken from the fall semester of 2009 through the summer of 2010 were eligible.
GRAND PRIZE

CATHERINE CROWTHER '11
"The Soul of India Lives in Its Villages"
Near Ranthambore, Rajasthan, India, March 2010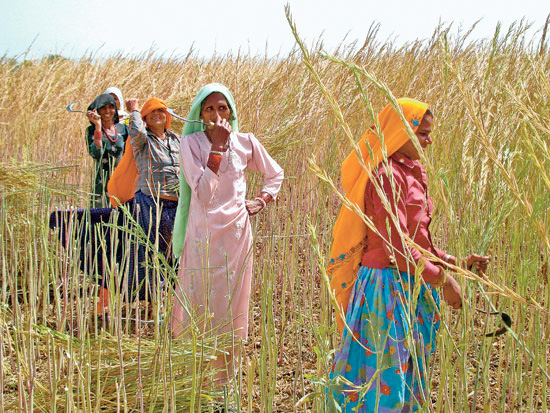 THIS PHOTO IS VERY characteristic of my study-abroad experience. The program was designed so that we could visit and learn about sustainable development and social change in urban and rural areas of India, and I constantly found myself in interesting and colorful scenes. I like the expressions of the women and that they are all dressed in beautiful saris, even though they are harvesting crops on a hot day.
Ranthambore is the site of a tiger reserve and the Prakratik Society, an NGO that works with local villages to prevent poaching and deforesting in the reserve and to promote people's health and well being. I took this photo as I left a project site where cement structures are provided to families so they can turn cow dung into useable methane by simply adding water and churning. The methane can be used for cooking or lighting. The idea is fantastically simple but improves many lives.
Crowther, of Wellesley, Mass., studied in the Lafayette-affiliated Sustainable Development and Social Change program run by the School for International Training and based in Jaipur, India. She is majoring in mathematics-economics.
RUNNER-UP

JOHN BACHNER '11
"Dawn's Reflection"
Tiputini Biodiversity Station, Ecuadorian Amazon,
February 2010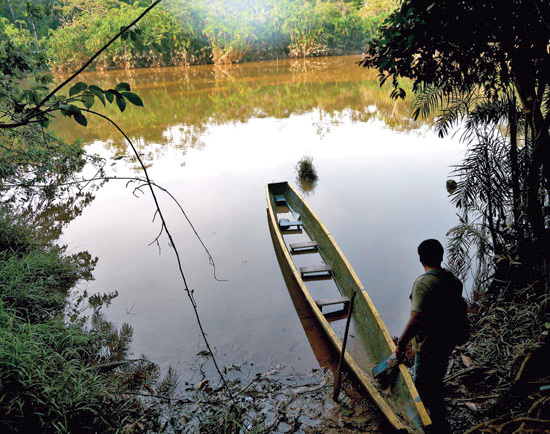 WE WERE STALKING THROUGH the dense, swampy, humid depths of the Amazon rainforest with an Ecuadorian jungle guide who was explaining the biological wonders around us, when we reached a small clearing. The darkness of the forest floor suddenly gave way to a tranquil pond reflecting the light from the newly emerging sun. Scenes like this of rich biodiversity and beauty inspired me to write an honors thesis about international environmental efforts to protect Ecuador's forest resources from oil development, deforestation, and degradation.
Bachner, of Marblehead, Mass., studied in the Lafayette-affiliated Quito Language and Liberal Arts program run by Boston University and based in Quito, Ecuador. He is an international affairs major with a minor in Spanish.