By Bill Landauer | Photography by CHUCK ZOVKO
With light reflected from the Plexiglas tank's water playing on their cheeks, Jim Toia and Greg Biggiani '16 stare into their cylinder and will the shapeless figure to move.
"What do you think he's doing?" asks Biggiani, a neuroscience major who was Toia's summer research assistant. "He's on the bottom."
Toia, for whom the jellyfish is a living part of an art installation at New Jersey State Museum, is untroubled. "He looks OK," he says.
"He shouldn't be sitting there unless he's trying to fight the current," Biggiani says.
And so they tweak the flow, add more gelatinous creatures, and frown at them—another step in the rhythm between art and science Toia and Biggiani have been dancing for weeks.
Biggiani is Lafayette's resident fish wrangler, handling the tanks for the biology department and rhapsodizing about how clown fish greet him like puppies. His enthusiasm is the perfect complement to the two sides of Toia: Toia the artist, the man who turns sheets of metal into a waterfall stair rail in Easton City Hall, and Toia the naturalist, whose mushroom art hangs in the gallery near the jellyfish tank.
With the jellyfish, Toia is "trying to bring awareness to the notion that our oceans are pretty out of balance," he says. "Jellyfish are this kind of ominous creature that we don't know a lot about. I love their structure. They're just gorgeous to look at, and they're some of the deadliest animals on the planet.  Jellyfish and mushrooms, they'll both kill you."
Message From the Deep
Toia tried working with jellyfish before but was never satisfied. More than a decade ago, on a vacation to the Jersey shore, he noticed what looked like mushroom caps washing up onto the shore.
He took the dead animals home, placed them on sketch paper on his driveway, and allowed the carcasses to bake in the sun. The clear, watery bits evaporated, leaving a brown representation of the rib pattern that Toia had found so alluring.
At the time, it didn't seem like enough of a centerpiece for Toia to build one of his characteristic user-experiential art pieces around, so he put his natural jellyfish renderings aside. Years later, he pulled them out of storage and was struck all over again.
The simple invertebrates, part of the fabric of the planet long before man, are not simply delicate and pleasing to the eye. They're also timely; they have a message about the modern state of things.
Jellyfish thrive where other fish can't. They flourish even when there's little oxygen in the water. In 2008, according to Scientific American, 400 dead zones—oxygen-depleted acres of ocean caused mostly by pollution—were found worldwide.
Lack of oxygen means fewer predators. So in dead zones jellyfish bloom and bloom and bloom, bouquet after bouquet of the delicate flower-like harbingers of death. Curious about what areas of water are dead to sea creatures? Look for jellyfish funeral bouquets.
Toia wanted to encapsulate these phenomena in his art. But how?
Birth of an Installation
"At some point I saw a hollow log, and I had this epiphany that if I could make a cylindrical tank and put it inside a hollow log, it would put all those ideas together about nutrients and pollution and the cycles of water," he says. Toia draws much of his materials from the Delaware River, which wanders near Lafayette's campus in Easton, past his house, eventually flowing into the ocean. "So I had to find a log."
He found it one day while assisting Nancy Waters, associate professor of biology, with her research vessel at Merrill Creek Reservoir in Warren County, N.J., —a fallen tree pocked with knotholes, easily accessible by truck.
The water vessel in which Toia's jellyfish would thrive was another matter. He'd befriended Michael Howard '96, senior aquarist at Monterey Bay Aquarium, who is responsible for a forest of cylindrical tanks where jellyfish pulse and sway under fluorescent lights for tourists.
The circular flow of the water allowed by the cylindrical tanks is essential for jellyfish to survive in captivity, Howard told him.
Enter Biggiani. Waters told him about Toia's tank, and the student was intrigued.
When you think marine life lab assistant, a chiseled soccer player majoring in the inner workings of the human brain might not be who first comes to mind.
But at his home in Medford, N.J., Biggiani keeps a container of water for changing fish tanks in a closet. He keeps fish in his dorm room, including a tank of jellyfish he procured after taking on the Toia assignment.
"They're like dogs," he says of his pets. Not the jellies, which seem unaware of humans. "When I wake up in the morning, the fish are all up against the glass waiting for food."
The Trouble with Jellies
Toia's tank represented a unique challenge. The cylinder wasn't simple. Trial and error ruled the day. One night, Biggiani was in the art building gluing ends to one Plexiglas tube and filling it with water. The tube burst, spilling 20 gallons. "I was by myself," he says. "I was freaking out."
Flow is among the biggest obstacles to achieving Toia's vision. At Monterey Bay, Howard tends to dozens of the living versions of Toia's mushroom caps in cylinders. But Howard's tanks are upright and aligned vertically; to fit Toia's tank into his decomposing log, it must lie horizontally.
"It's one of the most unique jellyfish tanks ever," Biggiani says. "Most are just circular tanks with water flowing through [them]. The fact that it is being put inside of a log just adds a whole other level."
Ironically, perhaps, since the animals thrive so easily in dead zones, Toia and Biggiani have to develop a flow that gets to all parts of the tank. Otherwise, the jellies go to those stagnant places and die.
That means days like this one, where Toia and his partner stare into the tube and hope their delicate, living works of art keep swimming.
"Want to put one in?" Toia asks.
"Sure," Biggiani says. He dips a measuring cup into a blue bucket and emerges with saltwater and a tiny ghost. He lowers the cup into the cylinder and gently pours the jellyfish into the tank.
It descends to the bottom.
"Work with me jellyfish, work with me," Toia says, like a Broadway choreographer. "Push it! Push it!"
The white cap pulses aimlessly in the tank.
"It's moving for you," Biggiani says. "Now we have to see how it's going to move."
Coiled on the floor is a tangled mass of spaghetti-like plastic tubing, electroluminescent lighting. When the display is finished, visitors will step on pressure switches on the floor connected to five sets of tubes, which will switch each set of EL lighting on or off. For this, Toia obtained the help of John Gehrig '15, an electrical and computer engineering and computer science graduate.
This is the crux of the project: A fish tank within a light and a weathered log. Toia is compressing processes. In nature, the log would rot and leech nutrients into the river, which would carry them to the sea. Visitors, by inadvertently changing the appearance of Toia's display merely by walking near it, would discover that they have an impact on this natural cycle.
Or maybe they'll just think it's pretty. "It's always a crapshoot in the art world," Toia says. "You never know what people are going to give and take in the moment."
For the moment, however, Toia and Biggiani have to overcome their biggest obstacle: getting the jellyfish to survive.
That's been impossible, so far. Once, the glue ruined the water. Other times, the pair thinks they have the flow right, only to discover the jellies are sucked into the filter or become stuck in some area they didn't see before.
It goes against Toia's philosophies in the past. Usually, live animals aren't part of his displays. "I try not to create an impact on the environment," he says.
For the two men, staring into the tank, the deaths of the simple creatures—really, little more than refracting angles of light—cause sadness and frustration in equal measure.
"We are so close now," Biggiani says. "You have to go slowly. Otherwise, it would be like putting a human on the top of a mountain really fast."
So they tread delicately, the scientist and the artist, hoping the nexus of their worlds speaks to someone. "It's art," Toia says. "It has to be a poetic moment."
From Teeth to Tentacles
Monterey Bay Aquarium's Michael Howard '96 Jams With Jellies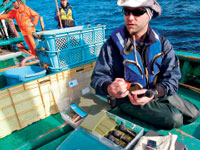 In marine biology, the pinnacle career is shark dude. Take the movie Jaws, Discovery Channel's "Shark Week," and even Syfy's Sharknado. The person in charge of studying the sharp-toothed eating machines is always the aquarium rock star.
Michael Howard '96, senior aquarist at Monterey (Calif.) Bay Aquarium, once made it to that undersea peak. For a few years he worked at an aquarium specializing in the captive reproduction and exhibition of developing shark and skate embryos. But in 2002, Howard gave it up. For jellyfish.
"A lot of people don't like working with jellyfish," says Howard, who in 2002 took the job with Aquarium of the Pacific in Long Beach, Calif., which at the time had one of the largest jellyfish collections in the country.
"They're a challenge," Howard says. In the wild, jellies often live six-month life spans. In labs, they sometimes last years. "If you want to exhibit them year-round, you need to learn how to close the life cycle within the lab—spawn jellies, perform in vitro fertilization, create cultures."
Howard loves the idea of treading where others are loathe to go. In 2006, he landed his job at Monterey Bay Aquarium as a full-time jelly guy (although he still was able to participate in MBA's white shark program—SCUBA diving with and feeding juvenile white sharks). And three years later, he served as a lead developer of an industry symposium on jellyfish husbandry.
"They're a challenge. If you want to exhibit them year-round, you need to learn how to close the life cycle within the lab."
– Michael howard '96
Later still, Howard became an instructor at Jelly School—a two-day seminar where 12 industry participants from aquariums worldwide come to learn about the gelatinous floating beasties.
He has traveled to Japan and China to teach international colleagues about jellyfish husbandry and culture techniques. At a symposium in Japan, Howard developed a connection with Jim Toia.
When Toia contacted him about his jellyfish art project, Howard offered design advice and began working with students to calculate tank flow. Cylindrical tanks are ideal for jellyfish because of the circuitry of the water flow. But jelly tanks usually stand on end, vertically. Toia needed his cylinder to rest horizontally inside a rotting log.
So Howard has been helping Toia procure his jellies and "cheerleading" as Toia and his team try to reinvent jelly husbandry in the name of art.
Maybe they won't turn Howard's job into a summer blockbuster, but he wouldn't have it any other way. His degree is in A.B. biology but he unofficially minored in … wait for it … English. He also received a classics prize for studies in Latin.
In the end, Howard chose to follow Jacques Cousteau instead of Virgil. "I wouldn't know what to do elsewise at this point," he says.
—Bill Landauer