You Did It!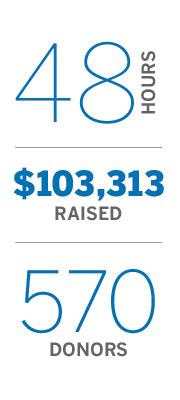 The Lafayette community surpassed the goal of the GiveLafayette Challenge, with 570 donors contributing $103,313 in celebration of the anniversary of the College's founding.
The goal was 480 gifts in 48 hours, starting 8 a.m. Tuesday, March 8. Donations came from 406 alumni, 61 parents, 38 students, 28 employees, and 37 friends of the College.
The list of donors, a leader board of the 10 classes with the most participants, and a breakdown of donor totals by state are posted on the website: http://www.lafayette.edu/givelafayette.
Annual giving provides flexible funding vital to meeting pressing needs and a key priority of the $400 million Live Connected, Lead Change campaign.