Lafayette's 1962 Academic College Bowl Champs Shine Again
by Bill Landauer
On the night of Oct. 14, 1962, Lafayette's football team hoisted four men onto their shoulders and carried them around the Quad. The marching band played. A crowd cheered.
But this triumph hadn't come from the gridiron or the basketball court. Those four students in horn-rimmed glasses and '50s quaffs and crew cuts had won a nationally televised battle of wits by bulldozing past college after college in the quiz show GE College Bowl.
For years, the College Bowl trophy had been on display at Hogg Hall, a tangible reminder of the victory for both the school and the men who brought it home. Sometime in the 1980s it vanished, leaving Lafayette bereft of any symbol of the win.
When Steven J. Friedman '64 discovered the bowl was gone, he offered to band together with his surviving teammates to foot the bill for at least part of a replacement. Lafayette opted to pay, commissioning a local jeweler. The replica bowl went on display in the Pfenning Alumni Center in January.
Teamwork for $400
Google College Bowl and you'll most likely find another game with Bowls that measures success in yards and touchdowns. But in 1962, when kids shimmied with Dick Clark on American Bandstand and contestants struggled to answer The $64,000 Question, College Bowl meant co-eds squaring off on a battleground of general knowledge questions.
For a few months in 1962, Lafayette's team of Friedman, Robert E. Jones '63, Barry Wellman '63, and Robin Wolfe '64 were kings. The Leopards won five straight episodes of the half-hour quiz show, edging schools like University of Cincinnati to win mandatory retirement (five was the most any team was permitted to win) and, of course, the beloved silver bowl.
CBS broadcast General Electric College Bowl live on Sunday afternoons from 1959 to 1962. The following year, the program moved to NBC, where it continued until 1970. Two members of Lafayette's student council at the time, Louis Mattis and Robert MacFarlan, both '62, contacted CBS and obtained permission for a Lafayette team.
At most colleges, faculty members and administrators handpicked quiz show teams. Lafayette's selection was democratic, involving a written test consisting of questions host Allen Ludden might ask. The top five scorers, who barely knew each other, became the team. Jones, Wellman, and Wolfe were history majors. Friedman was a biology major. Wellman, who had the highest score, was named captain.
"My mind is just like flypaper for trivia," Jones says. "I often tell people, I have one of the most trivial minds they'll ever meet."
College Bowl sent a schematic of the show's buzzer system. The physics department assembled it, and the team, under the direction of William Watt, literature professor, practiced using questions from old quiz shows.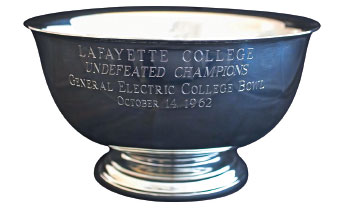 "It was psychological warfare," Friedman says. Watt and the boys came up with strategies. Ring in quickly, even if you're only guessing, they decided. Speed intimidated.
Watt developed a shorthand to make things faster. "If it's the northeastern United States and it's a poet, it's probably Robert Frost," he told his protégés during practices and later on their weekend drives between Easton and CBS's studios in New York City. "If it's in England and they're talking about flowers, it's probably William Wordsworth." Friedman says he still uses some of Watt's old techniques when he's watching Jeopardy and is surprised at how well they work.
Secret Agent Woman
The team stayed at the Waldorf Astoria Hotel. Lafayette gave them each $50 to enjoy the city. Jones went to see performances of My Fair Lady and A Funny Thing Happened on the Way to the Forum.
"It was all terribly exciting," says Jones, who grew up in Wilkes-Barre, Pa., and had seldom ventured outside its city limits. Now he craned his neck at the concrete canyon that rose all around him and found his blonde coiffure and lemon-wedge grin beamed into living rooms across the nation.
"I had a fan club," Wellman says. Jones says he received a stack of letters, including plenty from girls. He and Wellman say they went on dates with admiring females who had written them. The dates didn't go well.
To the College Bowl world of 1962, the Leopards team was the Michael Jordan era Chicago Bulls. The competition never had a chance. In an Oct. 7, 1962, face off against Hope College of Holland, Mich., Lafayette finished 370–15.
To make the live broadcasts more relaxed, producers rehearsed teams with practice games all day on Sundays. During those sessions, Friedman's then-girlfriend, Harriet, turned secret agent in his psychological warfare. Often, she followed girls from the other team into the bathroom. There, as the Lafayette foes primped nervously in the mirrors, Harriet said things like, "You know it really reflects badly on your school if you get an answer wrong."
At the 40th reunion, the Class of 1962 made Harriet Friedman an honorary member.
On Oct. 14, 1962, the undefeated Lafayette team faced three Phi Beta Kappa scholars from University of California at Berkeley. At the halfway point, Lafayette was losing for the first time, Jones says.
They came back to win, 325-105.
Afterward, everyone loaded into Watt's car for an unhurried drive back to Easton. The team stopped at a diner in Phillipsburg for a celebratory meal and assumed the whole experience had ended. But when they arrived at campus, they found the marching band waiting. Members of the football team put the trivia quartet on their shoulders and marched them through the Quad.
Game of Life
"Lafayette was going through a lot of turmoil in those years," Wellman says. The mostly white, Christian campus was seeking to become more diverse under then-president K. Roald Bergethon. Three of the members of the team were Jewish, Wellman says. The night the football team carried them on their shoulders, differences seemed to dissolve, an experience Wellman carries with him to this day.
After the final broadcast, the teammates went their separate ways. Jones became a history professor. Wellman was admitted to Harvard and became a well-known author and educator, most recently at University of Massachusetts at Amherst. Friedman recently retired from a career in medicine that took him from plastic surgeon to administrator of a large insurance firm. Wolfe went to Columbia Law School and became an attorney. His 2009 The New York Times obituary notes that at Lafayette "he was a member of their undefeated College Bowl team."
The team reunited on Lafayette's campus in 2002, banding together again in a College Bowl-like competition with a team from McKelvy Honors House.
At the half, the College Bowl champion team was losing. What could they do? Friedman didn't exactly feel comfortable sending Harriet into the ladies room for "psychological warfare" this time. Instead, "we psyched ourselves up," Wellman says.
In the second round, one of the questions was about Silicon Valley. Wellman, who does business there frequently, knew the answer and buzzed in, fast.
"Life experience," he says.
And in the end, Lafayette's College Bowl team retired again, undefeated.