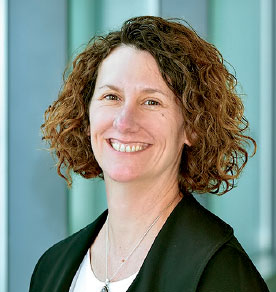 Professor of biology at Utah State University since 1999, Michelle Baker '92 has received a 2015 Utah Governor's Medal for Excellence in Science and Technology. The award recognizes Baker's leadership of iUtah, a collaborative project to enhance the state's research enterprise in water sustainability. Ironically, while dealing with leaky pipes in her lab during our interview, Baker nevertheless took time out to talk about her personal water world.
How did Lafayette influence your career path?
Lafayette's commitment to provide unique academic experiences and strong faculty mentoring led me to choose an academic career. In high school, I had no idea that one could have a career in science or research more generally. I was fortunate to get involved in undergraduate research in Professor Shyamal Majumdar's lab in the summer after my sophomore year. Through that experience and his mentorship, I was well-prepared to succeed in graduate school.
Why water?
I got hooked on aquatic ecology doing my honors thesis research at Lake Wallenpaupack. I had no idea that you could get paid to be outside while doing research! Raised in the western U.S., I always knew water was our lifeblood, and it was a great opportunity at Lafayette to study how freshwater ecosystems work.
Why does it matter?
Water is required for all of life. The drought in California is the harbinger of things to come. Utah is among the driest states, second to Nevada, and most of our precipitation falls as snow. We like to say we ski on our drinking water! Utah also has the highest per-capita water use, and our population is growing rapidly. We are exploring how climate change and peoples' decisions about water will impact Utah's future water resources.
What inspires you?
I'm inspired by nature. Walking in the mountains, wading in a cold stream, admiring a desert vista—these are among my favorite things to do when looking for inspiration. The undergraduate
and graduate students I work with also are very inspiring. They keep my science fresh.
What's the best piece of advice you ever received?
Dr. Majumdar once told me that you can't be an expert in two things. That was great advice going into graduate school and in building an academic career. Often academics know a little
bit about many things and think they are expert.
What would you do with $10 million?
I'd be tempted to open some sort of eco-tourism spot in southern Utah, but I'd probably just do something science-y with it like start a research station and provide research opportunities
for underserved students.