by Geoff Gehman '80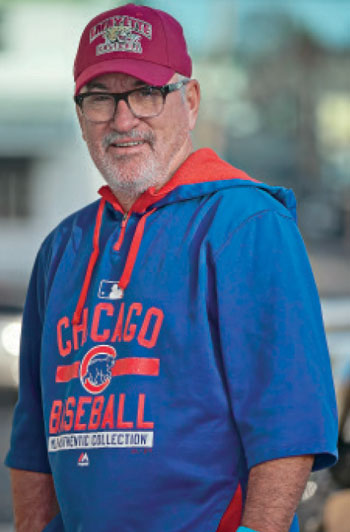 Major League Baseball's manager of the year Joe Maddon '76 skippered the seemingly miraculous Chicago Cubs' winning season, but his comeback cred doesn't stop there. In his Pennsylvania hometown, Maddon established the Hazleton Immigration Project in 2011 after tensions between races threatened to rip apart his beloved community.
"We have to get past that mental block, the black/white/brown block, the language divide, the cultural divide," says Chicago Cubs Manager Maddon. "We have to treat everyone with respect. There's no one better; there's no one worse."
Maddon, 60, grew up in an apartment above his father's plumbing business. At the time, Hazleton was a fusion of Poles, Italians, and Slovaks, many who toiled in the coal mines all day then met at nearby bars to slug beers and a shot before heading home. "It was like a subdivision of Europe," says Maddon, fondly recalling the gaggle of siblings, aunts and uncles, cousins, and neighbors who inhabited his life.
In 2000, large numbers of Hispanics started moving into the city, searching for blue-collar jobs and affordable housing. Crime increased, and some in the white community blamed the newcomers. In 2006, city officials passed an ordinance called the Illegal Immigration Relief Act. The act—which was later repealed—would have fined business owners and landlords who employed or rented to undocumented immigrants. Another ordinance—later deemed unconstitutional—made English the official language of Hazleton.
"We have to get past that mental block, the black/white/brown block, the language divide, the cultural divide. We have to treat everyone with respect. There's no one better; there's no one worse."
–Joe Maddon '76
This prejudice pained Maddon, who's spent most of his professional baseball career working with a diverse roster of players. During a visit home in 2010, he shared his confusion and concern with his cousin, Elaine Maddon Curry, and her husband, Bob Curry, who took him to a daycare center run by a Latina. Children of different races and ethnicities played in harmony. "What's the problem?" Maddon said. "This is how we grew up."
Understanding that the success of communities, like baseball teams, depends on relationships, Maddon, his wife, Jaye Sousoures, and the Currys organized the Hazleton Integration Project (HIP) in 2011 with a mission to promote interaction among residents, especially children, through community activities.

The project was boosted that year by Thanksmas, a free community feast, and a sports banquet in Hazleton starring Yogi Berra, the Hall of Fame catcher and fabled philosopher. In 2013, the Hazleton One Community Center opened in a former Catholic school building. Maddon attended the dedication before driving to Boston to manage a Tampa Bay Rays' doubleheader.
Elaine Curry, now the program director, estimates that the community center serves 2,000 people per week, an impressive number in a city with a population of roughly 25,000. Her husband, now HIP president, calls it a "petri dish" for intellectual, social, and emotional growth.
Maddon vows to take HIP's mission on the road—to charity events in Chicago, post-game press conferences, even the Twitter account of his English bulldog, Winston Churchill Maddon.
Not everyone in Hazleton is on board with Maddon's efforts. Some say he doesn't live in the city and doesn't know what it's like. But the hippest skipper in baseball learned long ago that he can't please everyone.
"Criticism doesn't bother me," he says. "I'm used to it because of my job. As a manager, I get hammered from every angle."
But Maddon's commitment to HIP goes deeper than rising above the naysayers. The three-time manager of the year knows in his heart that he made the right call.
Joe Maddon from A to Z
A biographical alphabet for an influential baseball manager, quotable humorist, amateur chef, and style hipster.
A
Maddon worked from 1975 to 2005 for the California
Angels
. A five-tool employee, he was a catcher, hitting instructor, coach, manager, and cook. Teammates lined up to be his roommate to get access to his crockpot pork roast.

BMaddon's mother, Albina "Beanie" Maddon, 80, has worked in the family-owned Third Base Luncheonette in Hazleton since 1948.
CMaddon's cutting-edge hair styles have ranged from Biker Guy to Surfer Dude to Zen Rock 'n' Roller. When he managed the Tampa Bay Rays, he and his players wore Rayhawks.
D"Do Simple Better" is one of Maddon's many motivational slogans, suitable for T-shirts, bumper stickers, sound bites, and #hashtags.
EAva, a Tampa eatery co-owned by Maddon, offers his cocktail "Holy (Bleep) Batman," which is what you're supposed to rave after one sip of the citrus-splashed cherry-bourbon concoction.
FBefore every game, Maddon honors his late father by imagining Joe Sr. sitting in the stands.
GMaddon credits Norm Gigon, his baseball coach at Lafayette, for helping him develop his professional skills. In 1967, Gigon appeared in 34 games in the infield and outfield for the Cubs, Maddon's current employer.
HIn 2010, Maddon helped persuade MLB officials to rescind an order that players and coaches wear only official pullovers, insisting that the hoodie was his cold-weather security blanket.
IMaddon helped organize the Hazleton Integration Project (HIP) in 2011 to unite Anglos and Latinos in his hometown of Hazleton.
JHIP was named by Jaye Sousoures, Maddon's wife, who shares his fondness for dogs, fitness, vintage muscle cars, and baseball. She played second base as a Bobby Soxer. He proposed to her at
1:30 a.m. in the parking lot of a Colorado liquor store.

KMaddon's many acts of kindness include donating his sweaters to homeless beach people, shaving his head to raise money for pediatric cancer research, and launching a free holiday feast in Tampa, Fla., and Hazleton called Thanksmas.
L"He pretty much taught me to put a sentence together," says Maddon of Sheldon Liebman, his freshman English professor at Lafayette. "He did a lot for my communication skills. He didn't have to put the time in, but he did." Liebman now chairs the humanities department at Wilbur Wright College in Chicago, only seven miles from Wrigley Field.
MMaddon once hired a magician to loosen up Cubs players during a five-game losing streak. The trick worked: The team won the same day that illusionist Simon Winthrop turned a crushed, empty soda can into an uncrushed, sealed can full of liquid.

N
Maddon has never forgotten the 1985 pain of abandoning his favorite uniform
number
, 20, when Hall of Fame pitcher Don Sutton joined the California Angels.
OThinking outside of the box is a Maddon specialty. He's ordered two suicide-squeeze bunts in the same inning of a playoff game, canceled batting practice so players could enjoy time off, and turned the locker room into a zoo by hiring an animal trainer with a penguin and a python.
PIn 1973, Maddon told Neil Putnam, his Lafayette football coach, that he was giving up the gridiron to focus on baseball. It wasn't until 2014, after Lafayette's 150th football game with Lehigh, that Maddon finally explained his decision to quit quarterbacking. "I was tired of the practice, tired of the playbook, tired of the discipline. I was 19 and on my own. It was nice to spread my wings a bit and just fly. It took 40 years, but I finally got to tell Neil: 'Heck, man, that was on me, that was not on you; you did absolutely zero wrong.'"
QMaddon is renowned for inspiring players with quotes from Shakespeare to Dr. Seuss to Sugar Ray Leonard. When his team wins two games in a three-game series, he reminds players and sportswriters of the Meat Loaf song "Two Out of Three Ain't Bad." He's even coined the phrase, "Meatloafing."
RA foundation founded by Cal Ripken Jr., the Hall of Fame infielder, donated $150,000 toward a new gym in HIP's Hazleton One Community Center.
SPete Ciccarelli, one of Maddon's minor-league managers, told The Tampa Bay Tribune that Maddon's marinara sauce would make even an old catcher's mitt "the best meal on the block." Maddon's recipe is so secret he even refuses to share the ingredients with his mother.

T@winstoncmaddon is the Twitter handle for Winston Churchill Maddon, Joe and Jaye's English bulldog, who contributes wit and wisdom about two- and four-legged creatures with a strangely Jamaican accent, mon.
UThe ubiquitous coach Joe Serra recruited Maddon for the Lafayette team by taking his family to dinner, buying ice cream for his mother, and hanging out at Maddon's locker, telling the high schooler that he could be Lafayette's best quarterback, ever.
VMaddon endorsed One A Day vitamins for over-50 men, the only product the writer of this alphabet has ever bought because of an ad.
WA World Series ring went to Maddon, 2002 bench coach of the California Angels. In 2008, he managed the Tampa Bay Rays to the Series, becoming only the fourth Fall Classic skipper who never played a major league game.
XMaddon has won three manager of the year awards for his X factor of intelligence, patience, tolerance, and common sense.

YThe late Yogi Berra, the Hall of Fame catcher, linguist, and philosopher, was Maddon's treasured friend.
ZThe late Don Zimmer, Berra's longtime rival/friend and Maddon's special adviser on the Rays, introduced Maddon to Berra. Maddon honored both his mentors as stars of HIP's first celebrity sports banquet.