This has been an eventful spring for Lafayette. We have had some wonderful college-wide speakers, including actor/producer Tom Hanks; legendary civil rights activist Diane Nash; and author/radio commentator Sarah Vowell, who found a perfect audience in Colton Chapel for discussion of her recent book, Lafayette in the Somewhat United States.
We had a less welcome visit from a norovirus bug that laid many students and staff low in March. That kind of stress is a real test of a community, and I am happy to report that our community rallied and passed with honors. Our faculty and staff did a wonderful job of managing the situation, and the students cared for one another in ways that sped our collective recovery.
Perhaps the most significant occurrence for me as president was seeing the faculty and Board of Trustees approve in February a new strategic direction for the College that not only builds on Lafayette's core strengths, but ensures we are prepared to meet the challenges of changing demographics and changing expectations for higher education.
As you'll read on page 8, these new initiatives aim to enhance the quality of the student body, safeguard the quality of the faculty, and increase opportunities for students and faculty to work closely together as part of a rich and versatile academic program. We seek to capitalize on the remarkable strength of our applicant pool by making it possible for the most qualified students to come to Lafayette, regardless of their financial circumstances.
Increasing the size of the student body at the same time will increase both the resources to meet this goal and the number of talented students we are able to bring to the Lafayette campus. We will be sure to add faculty and other resources to ensure that we remain the same close-knit community we have always been.
The same Lafayette—just more Leopards!
My thanks to all for your enthusiasm and support.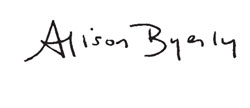 Alison Byerly