By Robert J. Bliwise '76 | Photography by David Coulter, Roy Groething, Chuck Zovko
Yes, the giant object suspended from the ceiling in the American Museum of Natural History—the 94-foot-long, 21,000-pound model of a blue whale—did seem illuminated in a way that showed off leopard spots. A mixed metaphor? Maybe. But it was the perfect symbol of a relentlessly propulsive force, like, say, Lafayette College. So watch out, all you others. This was to be Lafayette's night at the museum—an immersive encounter.
It was the extraordinary kickoff site (coming just a day before another celebratory kickoff, in Yankee Stadium) of the largest-ever fundraising campaign for Lafayette. Underneath the illuminated whale, we reveled in elegant dining and eloquent tributes. Presentations, broken up by student music-making, brought to life the strands of the campaign: "Fostering Innovation in Teaching and Learning," "Connecting the Campus Community," "Connecting Liberal Arts and Engineering."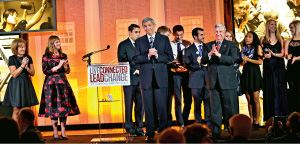 But perhaps the deepest connection was with a campus showcasing creative energy in all directions. One example from the evening: an overview by Ed Kerns, Eugene H. Clapp II '36 Professor of Art, of Frankenstein 2029. Now being developed, it's an updated, four-venue production based on Mary Shelley's gothic horror tale that involves more than 50 faculty members and students from art, chemistry, computer science, engineering, English, neuroscience, and theater. Spectators will choose how they view the production, meaning that each person will experience it differently. And so, with the crossing of the usual disciplinary lines, Frankenstein is newly animated.
From President Alison Byerly, we were reminded of those key strengths that have long animated Lafayette: a curriculum that "grounds the disciplines of concrete problem-solving in the complementary skills of open-ended inquiry and creative expression"; a "tremendous capacity for innovative teaching"; and a tradition of "building close-knit communities that are a vital part of the learning experience for students, and a source of lifetime friendships for alumni." Byerly pointed out that the campaign's full title, "Live Connected, Lead Change: The Campaign for Lafayette College," can be abbreviated as LC3. "This shorthand motto—LC to the third power—represents our conviction that the power of this campaign is transformative and exponential."
From the chair of the Campaign Executive Committee, Steve Pryor '71, we heard heartfelt testimonials to "the power of love, pride, and passion for Lafayette," along with expressions of confidence that Lafayette can chart the path to "what a liberal arts education should look like in the 21st century." Pryor announced that the campaign had already attracted
$236 million toward its goal of $400 million—including the recent gift of $10 million for financial aid, given anonymously.
Pryor closed his presentation with the words of a Lafayette professor from an earlier era of accomplishment. That was Francis A. March, the very first professor of the English language and literature in the United States, who had this to say in an 1888 talk to a group of Lafayette alumni in Philadelphia: "There are no dreams of youth which every college student is more certain to dream than visions of the growth and greatness of his alma mater. And there are no college graduates who have more reason to cherish these dreams than the old alumni of Lafayette."
Campaign Priorities
Connecting Liberal Arts and Engineering
State-of-the-art integrated sciences building
$70 million
Academic facilities
$30 million
Williams Arts Campus
$20 million
Science and engineering fund
$10 million
Fostering Innovation in Teaching and Learning
Faculty positions
$40 million
Student research and Internships fund
$10 million
Technology and innovation fund
$20 million
Connecting the Campus Community
Financial aid
$60 million
Athletics
$20 million
Connected Communities program
$40 million
Annual Fund
$75 million
Emerging Initiatives
$5 million
TOTAL:
$400 million
Beneath the hovering blue whale, plenty of alumni, old and not so old, were caught up in the celebratory mood. It was easy to spot a Lafayette maroon bowtie, worn by Jeff Kirby '84; the tie belonged originally to his late father, F.M. Kirby II '42, whose 95th birthday would have been just a couple of days later. Jeff Kirby's take on the event: "tasteful, graceful, powerful, and warm." That description resonated with Jennifer Talarico, associate professor of psychology. Talarico is an expert on memory. So it seemed fitting to ask her what made the museum evening memorable. She offered three "empirically supported" characteristics. The first is that the event was novel. "Yes, many of us have been to museums and to fancy dinners and such. But to be at the American Museum of Natural History at night, under a life-size, leopard-spotted blue whale and enjoy such a well-designed, well-organized, well-executed event was truly a once-in-a-lifetime event."
Then, Talarico said, the evening was packed with emotion for Lafayette supporters. "The speeches, the imagery, the performances—all were engaging and uplifting. Nostalgia for our own college days and excitement at the possibilities opening for current college students are both powerful emotions. Linking the two is sure to enhance the positive effect generated by each."
Finally, she said, the event extended a deeply meaningful network. Obviously, everyone there has "a strong, personal connection to Lafayette and thus to the evening's formal program," she noted. But this was a grand reunion; it allowed for individuals to connect with those they hadn't seen in a while—including fellow alumni, former professors, and key administrators—and also to remind themselves of the power of their shared connection to the College.
Abu Rizvi, who will join the College as provost in January, said, "It was moving to see such clear instances of Lafayette's ability to transform lives, those of current as well as former students."
Rizvi was struck particularly by Lafayette senior Eddie Andujar, who, at the dinner, described finding a more authentic and comfortable connection to his own heritage as a Puerto Rican. Andujar learned Spanish at Lafayette; at the same time he threw himself into conversations with other students interested in global issues. Rizvi also mentioned Ed Ahart '69, chair of the Board of Trustees, and his account of researching his senior thesis at Lafayette. In his remarks Ahart referred to a professor who urged him to complete the project, and who matched that challenge with the support that was essential to his success.
Such presentations, Rizvi added, "brought home to me the excellence of the educational community created by Lafayette faculty members and students."
As the scene broke up at the American Museum of Natural History, it wasn't exactly twilight's glow in front of Old Pardee. But for some, there was a memorable metaphor beyond the leopard-spotted blue whale. That was a high-performance race car—an interdisciplinary project, enlisting students with interests ranging from engineering to design to marketing, that had packed quite a punch. The evening included an account of competing, with that race car, against 120 teams from other colleges and universities. The result: three first-place awards for Lafayette.
A blue whale? A race car? Nimble. Powerful. Fast-moving. Lafayette will be going places.
Learn more about the campaign.