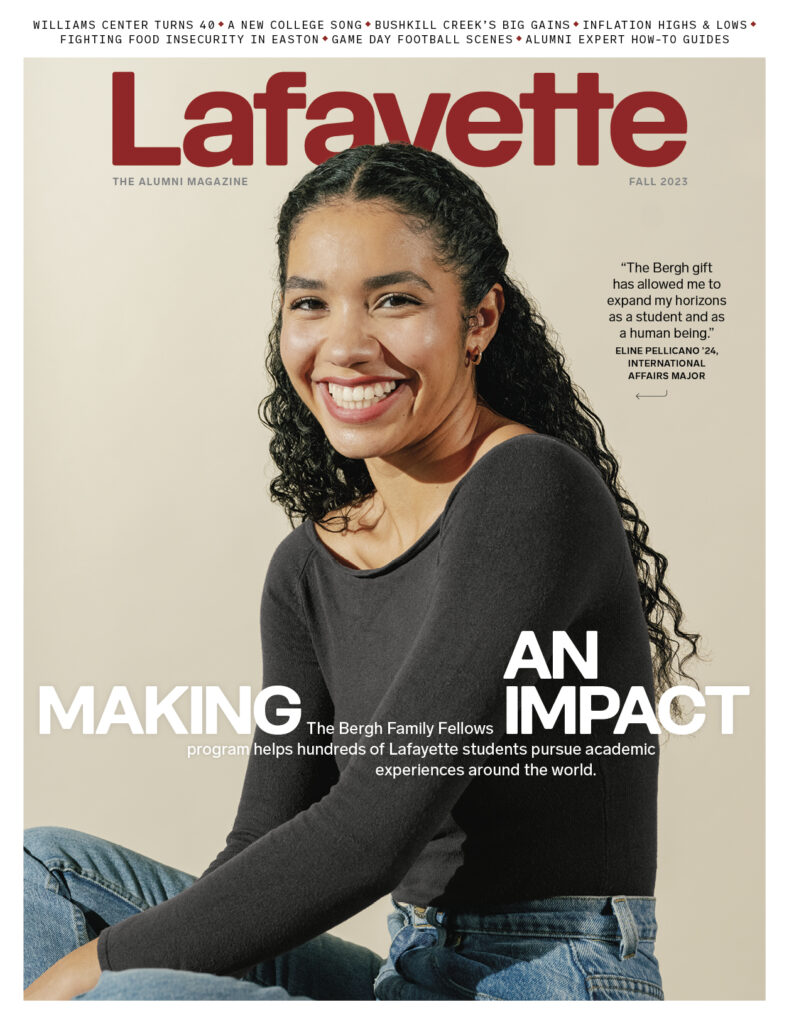 Fall 2023
The Bergh Family Fellows program is supporting, and shaping, hundreds of Pard experiences out of the classroom. In the Fall 2023 cover story, nine Lafayette students reflect on their recent academic pursuits around the world, which were made possible through the program. Seen here on the cover is international affairs major Eline Pellicano '24, who was able to travel to Senegal and be immersed in the country's culture and language.
Malik Hamm makes his NFL debut.

In an effort to revitalize local waterways and protect the endangered life cycle of freshwater mussels, the College teamed up with conservancy groups to demolish existing dams on Bushkill Creek.

Bergh family fellows program is expected to support at least 1,000 students over 5 years.

This year, through community and collaboration-and the lyrics and composition of two alumni-the newest College song has emerged.

Economics professor Julie K. Smith talks inflation and a new cost of living.

Associate professor of mechanical engineering Alexander Brown and student-researchers spent This summer constructing a self-driving minibike and innovative software that could potentially transform motorcycle safety.

Pard poet reflects on the writing process.

Lafayette alumni share their latest work.

Jim Toia, Lafayette's director of community-based teaching, steps outside with students to sketch an abstract sculpture on campus called Transcendence.

The pathway to Easton opens alongside the Class of 1962 Gateway Plaza.

A look at the major events leading up to removal of the century-old dams.

Author, publisher, and wordsmith extraordinaire Kameisha Hodge '11 will help you find your voice as a writer—and take it to the next level.

In the digital media age, we're bombarded with data. Will Johnson '02, CEO of The Harris Poll, knows how to zero in on what's real and relevant.

Amy Herman '88 trains leaders across the world in how to make tactical decisions. Here, she shares three habits that will help improve any problem-solving process.

The College plans to continue operation of the 18-room bed and breakfast.

LaFarm gets a greenhouse, and it's a hub of activity for the College and community.

Through civic-minded programs, Lafayette addresses food insecurity in Easton.

From conducting cancer experiments in San Diego to studying languages in West Africa—internship, research, and study abroad opportunities around the world are expanding how and where our students learn. Their work also has far-reaching impact.

Over the years, some big names have stopped by College Hill to entertain and educate crowds, from Jane Goodall and Maya Angelou to Bruce Springsteen.

How an alumni couple inspired the College's newest song.

More inclusive efforts announced from financial aid to the application process.

The College Post Office and Simon's Market roll out new technology for students.

A lead gift for Gummeson Grounds has enhanced the experience to watch, and play, soccer games.

Markle Hall debuts a renovated and modern space for visitors.

This year, the College celebrates four decades of artistic excellence and memories.

President Nicole Hurd catches up with Sarah Moschenross, Lafayette's new vice president of student life, to talk Pard pride, students finding their guardrails, and the benefits of meditation.

Manaka Gomi '23 is improving the instrument, and the sounds, for pianists like herself.